Ben Basile and Billy Kottage (Pilfers)
Interviews | Apr 4th, 2013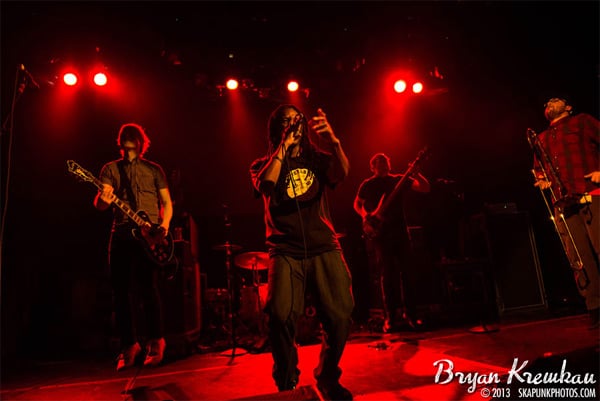 Many ska fans rejoiced when it was announced that Pilfers were going on a nationwide tour with Reel Big Fish in early 2013. Aside from a few reunion shows, the band had been pretty dormant since their break-up in 2001. As the tour was announced, news followed that founding members, bassist Anna Milat-Meyer and trombonist/vocalist Vinny Nobile, would not be joining them on this trek. Enter Ben Basile and Billy Kottage. Joining on bass and trombone respectively, these guys came in to fill the very large shoes left by their predecessors.
I got to ask the new guys some questions about what it was like to join the band, the aforementioned tour with Reel Big Fish, and what is next for the band.
Where are you originally from?
Billy Kottage – New Haven, CT but reside in Dover NH
Ben Basile – I'm from Wappingers Falls, New York. It's about an hour or so north of NYC.
When did you start playing music?
BK – I started playing the piano when I was around 9, and picked up the trombone the year after.
BB – I was a "late bloomer" when it came to music. I didn't start playing music until my junior year of high school. I became more serious my first few years of college. Then I went for my bachelors at SUNY New Paltz, studying music performance/Jazz studies.
Tell me about your first band. What kind of music did you play?
BK – My first real band was called The JackBear Meese. I loved playing in this band. It was kind of like indie-bluegrass-ambient craziness. I actually played bass. This band was sick.
BB – First band? Uhm… It was called 66 Cents. It was with some friends of mine. We didn't know how to play our instruments and had like half a rehearsal. I'd like to think a lot has changed since then.
Have you always been a ska fan?
BK – Not really. I never really knew it existed until my sophomore year in college. My roommate Nick Murray from New Jersey knew all these bands, The Slackers, Westbound Train, The Pietasters etc., so it really blew my mind. It just so happened I was going to college for trombone at the time, and fell in love with the music instantly.
BB – Yes. Thanks to my older sister. She got me into The Mighty Mighty Bosstones, Reel Big Fish and Goldfinger when I was in junior high. After that my twin brother and I dove much deeper into the genre.
How did you get hooked up with the Pilfers?
BK – Tom Grin. Tom was doing some managing for this band Roots of Creation I also play with. He was talking to Coolie Ranx from Pilfers and Coolie said he had a big tour and needed a big trombone.
BB – Facebook. Seriously. In December, I saw a post that they were looking for a bassist in the San Francisco Bay Area, because that's where their drummer James Blanck lived. I live in New York, but for this "once in a lifetime" kind of opportunity I told them I would gladly fly to California to audition. I ended up just driving to Boston to audition with guitarist Nick Bacon.
Where were you when you got the call?
BK – It wasn't really a call. After Tom introduced me to Coolie, I was playing a show at the Knitting Factory in Brooklyn with the Void Union supporting Mustard Plug. I had put Coolie on the list so he could come check me out. As I was warming up backstage, he came to me and said let me hear it. So I let him hear it.
BB – Actually, I think I was home practicing bass!
What was the first song you played with the band? What was that experience like?
BK – The first song I played with the band was Chawalaleng at Windigo Surfboards in Oceanside California. This experience was kind of surreal. We were rehearsing at this sick surfboard making company, owned by four brothers who are super fans. These guys let us take over a part of their warehouse and play for hours (our only rehearsal before tour). When we started I saw the excitement in these guy's eyes, who have idolized Coolie Ranx for so long. When I saw the looks on their faces and the joy, I realized I was part of something special.
BB – The first day the full band played together was our one rehearsal, the night before the tour started. We were in Oceanside, CA at a rehearsal space lent to us by some OPC. (Shout out to Seaworthy!) After we set up, James said "I wanna play Legal Shot on this tour." And that was it, the first song I played with the band. The entire experience, the first song, going on tour with Pilfers/RBF is completely crazy to me. It has been a dream come true for me and I am very thankful to be a part of it all. I just never thought I'd be playing with them. I saw Pilfers in October on the "Skalapalooza Tour" I had no idea I would be auditioning to go on tour with them two months later.
Was this your first national tour?
BK – Yes it was. I've done a bunch of other touring but not full country.
BB – Yes, first kind of tour ever. Since I graduated college, about two years ago, I've been a full time musician. But the opportunity to tour hadn't come up yet.
Dan P, Pilfers and Reel Big Fish seem really tight. What has the chemistry been like on the road?
BK – The chemistry was unreal. I became very close with everyone in all camps. I was also fortunate enough to play in every act. Reel Big Fish was nice enough to let me play 3 songs with them every night. And the last week of tour the great Dan P had me play a song with him during his set each night. I would have never imagined I would have been playing with all three acts.
What roles do the different band members take on the road?
BB – I sold merch for the band; so I got to meet a lot of the fans each night, which was a real pleasure. I'm Straight Edge, so I did all the night driving after the gigs. Oh, and I played bass. Nick was the navigator. James did the day drives and tour manager stuff. Billy booked hotels and handled our ear monitor system. Coolie over saw everything.
How did you fit in with the band?
BK – Haha. I think pretty well. I was the youngest on the entire tour and we all really meshed well on the road. I'm a go-getter by nature, and always trying to get my foot in the door/seeking more opportunities so I think this really took Pilfers by surprise. Coolie Ranx coined the nickname Billy Balls for me early on in the tour and it kind of stuck.
BB – Like I said, I did all the late night driving, so the guys appreciated that. But overall I think I fit in well. Everyone in the band is pretty funny, so we all laughed a lot. But for the most part I tried to sit back and listen. I wanted to learn as much as I could from everybody I was working with. Pilfers, Reel Big Fish, Dan Potthast and RBF's road crew.
How have fans responded?
BK – The fans have been great. I had some big shoes to fill, to say the least. Not once, in any city did any fans give me negative feedback. I tried really hard to capture Vinny's sound, and wanted to provide the fans the same sounds they were coming to hear.
BB – I've had a few fans tell me that I'm not as pretty as the original bassist Anna. I agree with them.
What is next for Pilfers? Are there plans to tour more or record?
BK – I think more shows are definitely in the future. There are some talks of an NYC Ska fest, also a Europe tour. We shall see.
BB – Tour? Yes. New Album? Yes. We are planning on it.
What has life been like post-tour? What have you been up to?
BK – Right after tour, I jumped on another 6 week tour with Boston reggae band Spiritual Rez. When I am done with this I am going to be playing a run of shows in April and May with Big D and the Kids Table, and I will be playing the entirety of Warped Tour with Big D and the Kids Table. I also manage my own band in Dover, NH called All Good::Feel Good Collective.
BB – On the road, I missed cooking and playing jazz. So when I got home I did a lot of that. Musically, I felt like I was coming home to a new slate, I came home very inspired. I went back immediately to playing with different jazz groups and with my cover/wedding band. I have a few different recording sessions coming up that I have been preparing/writing for.
Be sure to check out Pilfers on Facebook and Twitter.
http://www.facebook.com/pilfers
http://twitter.com/PilfersNYC