ReadJunk Playlist: December 2010 (The Holiday Playlist)
Playlists | Dec 8th, 2010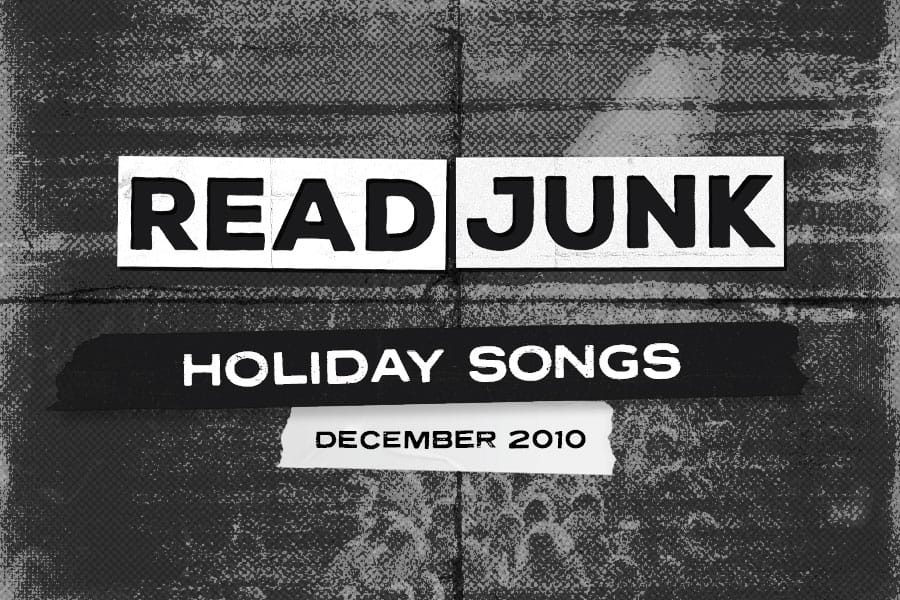 We're in the middle of the holiday season and what better way to celebrate with an overload and abundance of Jingle Bells and Santa songs! Yippee! Most of these tracks are ones I like, some aren't but felt the need to list them anyway. I tried to find some Hanukkah songs but only managed to find a couple. I did brief blurbs for the first 30 tracks, then just listed the rest because what can you say about the same songs over and over again? If I missed a song, post it in the comments!

1. The Pogues – "Fairytale of New York"
The greatest Christmas song ever!!!
2. Gene Autry – "Here Comes Santa Claus"
Gene Autry is my to-go guy for Christmas music. It's something about his old-time country Western Christmas songs that I love. I didn't like it at first but my parents played it a lot so it just grew on me. It's nostalgic to listen to it now.
3. Bing Crosby – "Mele Kalikimaka"
Crank up this song and picture a hot lingerie sales girl stripping by your pool.
4. Carbon Leaf – "Red Punch Green Punch"
Carbon Leaf just released their holiday themed EP called Christmas Child. It's great and considering they are one of my favorite bands, it's perfect to listen to before Christmas. This track is just a bundle of joy, as well as the entire EP!
5. Beach Boys – "Little Saint Nick"
The Beach Boys know how to do Xmas songs!
6. South Park – "Christmas Time in Hell"
Nothing says Christmas like Satan singing about Gene Siskel's weenie growing.
7. Monty Python – "Christmas In Heaven"
"It's Christmas It's Christmas in heaven, Hip hip hip hip hip hooray, Every single day, It's Christmas day."
8. Big Bad Voodoo Daddy – "Mr. Heatmiser"
A cover of the Year Without Santa Claus songs for Snow Miser and Heatmiser. I love it!
9. Brian Setzer Orchestra – "Getting In The Mood (For Christmas)"
Brian Setzer and Christmas go together like egg and nog.
10. Mighty Mighty Bosstones – "Time of the Year"
Dicky and the boys in plaid have a few tracks about Xmas, like this one!
11. Mu330 – "Christmas Merry Christmas"
Mu330's Winter Wonderland album is something to take out every December.
12. South Park – "Dreidel Dreidel Dreidel"
South Park have the best songs about Hanukkah.
13. Matisyahu – "Miracle"
A catchy new tune from Matisyahu. He didn't think there was enough Hanukkah songs so this is his response and I dig it a lot!
14. John Denver and The Muppets – "Deck The Halls"
John Denver sure sang a lot of songs with Muppets.
15. Emmet Otter's Jugband Christmas – "Brothers"
Can't forget Emmet Otter on a holiday playlist! Even though this song isn't necessarily a Christmas song per say. "Barbecue" is another fun one.
16. The Vandals – "Oi! To the World"
The Vandals have an album full of Xmas related songs, mostly funny tunes.
17. Johnny Mathis – "We Need A Little Christmas"
And now for something completely different than the Vandals…Johnny Mathis!
18. Loudon Wainwright III – "Suddenly It's Christmas"
Loudon has a perfect take on the Christmas season.
19. Bob Dylan – "Must Be Santa"
Dylan is channeling is inner-Pogue I think on this track. A fun song to dance to!
20. Denis Leary – "Merry Fucking Christmas"
Just what you'd expect from comedian Denis Leary
21. The Dan Band – "I Wanna Rock You Hard This Christmas"
"The best Christmas present is to rock your body underneath the fuckin' tree!"
22. Fear – "Fuck Christmas"
Geez, someone doesn't like Christmas…
23. Mavis Staples – "Christmas Vacation"
The theme song to one of my favorite Christmas movies, Christmas Vacation! "SHITTER WAS FULL!"
24. Jethro Tull – "Christmas Song"
Always liked this Tull song.
25. Richard Cheese – "Holiday in Cambodia"
Not really a Christmas song but Richard Cheese makes this DK cover one.
26. Adam Sandler – "Hanukkah Song"
You know this was gonna be on here…
27. Less Than Jake – "Grandma Got Run Over By A Reindeer"
Less Than Jake are the ska kings of covers!
28. The Ramones – "Merry Christmas (I Don't Want to Fight Tonight)"
Besides this, Joey Ramone has more Christmas music on a separate album. Hearing Joey Ramone sing Christmas songs seems right to me.
29. The Waitresses – "Christmas Wrapping"
The original Waitresses song is so much better than any cover (The Donnas, Save Ferris, etc.)
30. Burl Ives – "Have A Holly Jolly Christmas"
Classic song from the end of Rudolph.
And the rest of 'em….
31. Brenda Lee – Rockin' Around The Christmas Tree
32. Bruce Springsteen and the E Street Band – Merry Christmas Baby
33. The Dickies – Silent Night
34. The Bouncing Souls – Feed The World (Do They Know It's Christmas)
35. The Damned – There Ain't No Sanity Claus
36. Save Ferris – Father Christmas
37. Bad Manners – Christmas Time Again
38. MxPX – Punk Rawk Christmas
39. The Business – Step into Christmas
40. 4 Skins – Merry Christmas Everybody
41. Descendents – Christmas Vacation
42. The Chieftains – Christmas Reel
43. Irish Rover – Christmas in Killarney
44. The Priests with Shane MacGowan – Little Drummer Boy / Peace On Earth
45. Chuck Berry – Run Rudolph Run
46. Carla Thomas – Gee Whiz It's Christmas
47. Bob Marley and the Wailers – White Christmas
48. Judge Dread – Jingle Bells
49. Eek A Mouse – Night Before Christmas
50. The Chinkees – Christmas
51. Belle & Sebastian – Are You Coming Over for Christmas?
52. Eels – Christmas is Going To the Dogs
53. The Mr. T Experience – Merry Fuckin Christmas
54. Al & The Vibrators – Merry Christmas
55. Run DMC – Christmas in Hollis
56. Fishbone – Just Call Me Scrooge
57. Billy Mack – Christmas Is All Around
58. Dean Martin – Let It Snow Let It Snow Let It Snow
59. Johnny Cash – Blue Christmas
60. Carbon Leaf – Christmas Child
61. Jesse Malin – Xmas
62. Five Iron Frenzy – You Gotta Get Up
63. Blue Meanies – The Grinch
64. Th' Legendary Shack*Shakers – God Rest Ye Merry Gentlemen
65. Bad Religion – The First Noel
66. The Wretched Ones – Christmas Song
67. Goldfinger – White Christmas
68. Blink 182 – I Won't Be Home For Christmas
69. Joey Ramone – Christmas (Please Come Home)
70. Billy Idol – Yellin' at The Xmas Tree
71. Peter and the Test Tube Babies – I'm Getting Pissed For Christmas
72. Huntingtons – It's Always Christmas At My House
73. Rancid – Christmas Eve(she got up and left me)
74. No Use For A Name – Christmas Day
75. Squirrel Nut Zippers – Carolina Christmas
76. Stephen Colbert – A Cold, Cold Christmas
77. Neil Diamond – Jingle Bell Rock
78. Ella Fitzgerald – Sleigh Ride
79. Gene Autry – Rudolph the Red Nose Reindeer
80. Trans-Siberian Orchestra – Christmas Eve/Sarajevo 12/24
81. Shane MacGowan – Christmas Lullaby
82. Sinead O'Connor – Silent Night
83. Tom Waits – Christmas Card From A Hooker In Minneapolis
84. Toots and the Maytals – Christmas Feeling Ska
85. The Toasters – Happy Christmas
86. Rise Against – Making Christmas
87. The Slackers – Dreidel Song
88. Voodoo Glow Skulls – Feliz Navidad
89. Reel Big Fish – Mele Kalikimaka
90. Osaka Popstar – The Christmas That Almost Wasn't (Album Version)
91. Sex Pistols – Punk Rock Christmas
92. Stiff Little Fingers – White Christmas
93. The Slackers – Walking in a Winter Wonderland
94. Sloppy Seconds – Hooray For Santa Claus
95. Twisted Sister – Have Yourself a Merry Little Christmas
96. Weezer – Christmas Celebration
97. Wesley Willis – Merry Christmas
98. Pennywise – Christmas In Hell
99. Nerf Herder – I've Got A Boner For Christmas
100. South Park – Mr Hankey The Christmas Poo