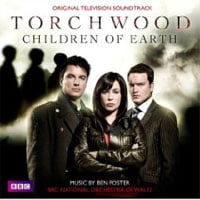 Record Label: Silver Screen Records
Genre: Film Score
Buy on Amazon.com
Torchwood is a popular BBC show that stars John Barrowman, Eve Myles, Gareth David-Lloyd, and Kai Owen. While I'm not familiar with the show, that hasn't stopped me from listening to some scores! I won't even try to explain to you what the series is about because I don't have the slightest idea, I guess it's a spin-off or cross-over show to Doctor Who. I suggest just watching the series, since there are only 5 episodes. Or you could always spoil yourself and read the Wikipedia entry.

Composer Ben Foster did all the score pieces for the series, which sci-fi nerds might know that he's also been Doctor Who's composers since 2005. There are 40 tracks total on the soundtrack, and they are split up into the days that take place on the show. 5 episodes, 5 days, makes sense. Foster's score reminds me of a James Bond score for some reason; just minus the infamous Bond theme of course. For being a TV series, this score is certainly pretty damn good! Most of the score contains loud brass, fast strings, intense drum beats and computerized sounds. There is also some singing over certain tracks like " Judgment Day." There appears to be some guitars in there as well, that resemble spaghetti westerns. This song is probably the best out of the 40 something tracks! Honestly though, the entire score is exciting and really, really great! I might even want to start watching Torchwood because of it.
Bottom Line: Excellent score from Ben Foster!
Notable Tracks: Diplomatic Cars, Thames House, Torchwood Hunted, Judgment Day, the Children of Earth
Overall Rating: