Booze & Glory – "As Bold As Brass"
Album Reviews | Feb 10th, 2014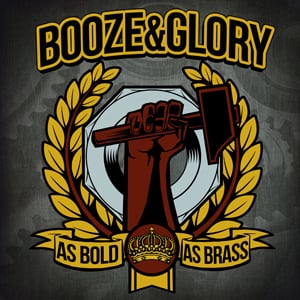 Record Label: Sailor's Grave Records
Genre: Oi!/Punk
Buy On Amazon
"As Bold As Brass" is as authentic of a classic Oi! album as you can get. That being said, the album is brand new and released in 2014 and could easily fool someone from 1985.

Right off the bat, Booze & Glory kicks things off with one hell of a punk rock ditty in "Off We Go!" Things never settle down from there. There are catchy anthems, hooligan sing-a-longs, social awareness, punk rock and roll, pub songs and just about anything that you can name that made an Oi! album great. Easy comparisons can be made to the Cockney Rejects and the Business and I would have to say those would hold true, but Booze & Glory bring a more modern and somewhat faster punk rock sound to the table.
I was more than impressed with "As Bold As Brass". It's good to hear a band going back to their roots and playing a pure Oi! sound. Bands like Booze & Glory are few and far between and there is no doubt that they are carrying a torch that was dimly lit. Now skinheads can rejoice because "As Bold As Brass" is just the shot of adrenaline that British punk rock needed.
Bottom Line: A modern day Oi! album that is sure to become a classic. "As Bold As Brass" pays homage to its roots, but it does so with a modern edge.
Notable Tracks: Off We Go!, Waiting For Tomorrow, Only Fools Get Caught, I Hope You Still Remember
Overall Rating: