Carbon Leaf – "Constellation Prize"
Album Reviews | Oct 28th, 2013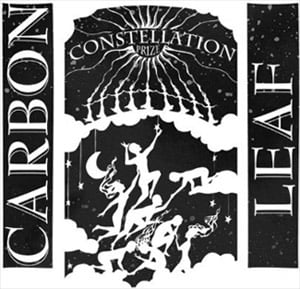 Record Label: Constant Ivy Music
Genre: Folk Rock
Band Link: carbonleaf.com
Buy on Amazon.com
Carbon Leaf are back with a brand new album after just releasing Ghost Dragon Attacks Castle 7 months earlier. It's a great time to be a Carbon Leaf fan since the band keeps pumping out awesome music, and on a frequent basis as well.

Ghost Dragon Attacks Castle was a Celtic-influenced album and was released around St Patrick's Day and Constellation Prize is more in line with the band's current sound. Their current sound is a mixture of folk, Americana, and college rock. While I liked their previous album and there's some great tunes on it, I'm more pleased with the result of Constellation Prize.
The album starts off with "Circus," which kind of reminds me a little bit of "Indecision" from Nothing Rhymes With Woman. Both good tunes but I think other songs would have been better listed first. "Love Rains Down" is perhaps the catchiest songs Carbon Leaf has done in a long time. Lots of whistling and in fact, I dare you to listen to the song and not whistle the chorus afterwards! The song would be perfect for a summer comedy movie or trailer, something like The Way, Way Back. "Alcatraz" is another favorite off the new album because of Carter's guitar playing. Is it a pedal steel guitar or something else? That little riff gets into my head and I love it.
The overall vibe I got some Carbon Leaf's newest album is Autumn. I don't know what it is, but that's what comes to mind. It wouldn't be the first time the band has picked a somewhat seasonal theme with their albums. I guess the Americana/folky sound always makes me think of Autumn. "All of My Love," "Two Aging Truckers" and "Sparklers" are songs that come to mind that give off that Fall-like feel. I'm torn between "Love Rains Down" and "Sparklers" on which song is my favorite off this album. Both are excellent songs so it's tough to pick.
The song "Ragtime Carnival" finally makes an appearance on an album, after fans have been hearing it for almost a year now live. I still think it would have been great if the band included "7 Brides for 7 Sinners" on this one since that has never had a proper studio release. The only track I didn't care for was "Wolfin Down Your Heart" because it just didn't seem like a Carbon Leaf song to me. I'll have to listen to that one again because right now I'm not feeling that. Other than that, I'm extremely happy with the way Constellation Prize turned out and looking forward to hearing these songs live.
Bottom Line: A very Autumn-like album from Carbon Leaf
Notable Tracks: Love Rains Down, Alcatraz, Two Aging Truckers, Ragtime Carnival, Sparklers
Overall Rating: