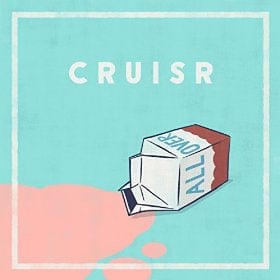 Record Label: Vagrant Records
Genre: Indie Pop
Band Link: http://cruisrtheband.com
Buy on Amazon.com
CRUISR was originally called Cruiser but I'm sure there was another band called that so they had to change the name. Either that or the band wanted to misspell a band name just to be clever. In any event, CRUISR has a brand new EP that makes you crave more music from Andy States & co.

The title track "All Over" is catchy as hell and the song is ready to be on some indie comedy soundtrack (something like The Way Way Back or Little Miss Sunshine). It just has that fun indie pop sound. Kind of reminds of Tim Myer's music a little. "Kidnap Me" has a beachy feel to it and another stand-out from the 3 songs. I still think "All Over" is a better track but this isn't far behind. The last song on the EP is "Don't Go Alone." It's a song you might have heard of if you had Cruiser's last EP. They updated the song and added a few bells & whistles to it. Still a very fun and catchy song. It might be a notch slower or not but sounds tighter than the original version.
I liked Cruiser's music from 2012 but didn't hear much from them since. Glad to see they signed with Vagrant and will hopefully be releasing a proper full length soon because 3 tracks is just a great big tease. I think once they release a full-length, the band will get a lot more attention.
Bottom Line: Fun tracks that make me want to dance (in the comforts of my own home)
Notable Tracks: All 3 tracks
Overall Rating: