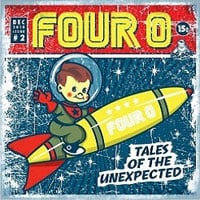 Record Label: Do The Dog Records
Genre: Ska Punk
Band Link: www.myspace.com/four0
Do The Dog Records' latest album is out now, and it's from Four 0. The ska punk band are from Bournemouth, Southwest, UK. The band teeters from pop punk to ska/reggae. Fans of bands like Sublime, Bedouin Soundclash and other ska influenced bands might like this band.

Four 0 have 2 songs ("Step Back," "Clash Horns") in the beginning of the album that are just okay. I wouldn't have necessarily used those songs to start the album because I don't think they truly represent the band's sound. I think the best track is track 3, "Stay That Way." It's a bouncy ska/reggae song similar to ones that 311 or Sublime do. Something along those lines, but it's a style they should stick with it. The rest of the album is better than the first two tracks. My advice is to stick to the acoustic ska, and ska/reggae songs and drop the pop punk songs.
Bottom Line: The album starts off meh, but gets better from track 3 & on.
Notable Tracks: Stay That Way, Lost & Lonely, Goosfrabar
Overall Rating: