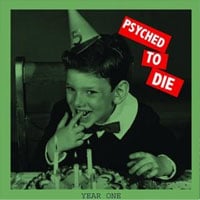 Record Label: Dirtnap Records
Genre: Punk
Buy on Amazon.com
Psyched To Die is a NJ punk supergroup, comprised of Mikey Erg of The Ergs! and members from For Science and Fast Times. Surprisingly, these veterans of nerdy, cutesy power-pop combined forces to affect an early 80s punk sound, tapping into that fleeting gray area between punk and hardcore.

Unfortunately, the result is unbearably boring. Tunes are simplistic and dull to the point of ineptitude, musicianship is loose and messy, and the overall sound lacks any kind of bite, passion, or sincerity that originally drove hardcore.
"Year One" is like a demo made by high schoolers in a garage. Kudos if that's what they're going for, but at the end of the day the music has to be good, and this sloppy, bland mess ain't.
Bottom Line: Lackluster and unappealing throwback to garagey punkcore.
Notable Tracks: Permanent Solution, Staged Reality
Overall Rating: