Surgery Without Research / No Man's Land – "Split" EP
Album Reviews | Jul 18th, 2014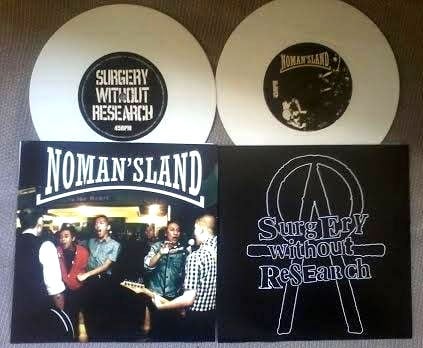 Record Label: Aggrobeat
Genre: Punk/Oi
Buy on Aggroshop
Normally I'm not a huge fan of Hardcore Punk, I like it but will rarely go out of my way to listen to it. Surgery Without Research however have released an incredibly good 3 song A-side for this Split EP. On the other side we have two tracks from Indonesia based Oi! band No Man's Land.

Surgery Without Research's first song is titled 'Things Not To Like' and is a short (1:06) fast straight up harcore punk song. Next up is 'Power Unpower' Which has a nice fast guitar riff and drum beat, coupled with lyrics that for the first verse are pretty much all 'I don't like your fucking…' Followed by something they don't like including TV, Radio and of course the government. The last song by Surgery Without Research 'Deform Not Conform' starts a little slower than the others and is actually a little quieter vocal wise, rather than the shouty vocals they have for the other two tracks it is more of deep, scratchy but still fairly loud, it fits the song very well though.
No Man's Land have only two tracks but they are very good. To start with we have 'Living In A Den of Thieves' A fast song with the football chant feel of Oi! music. The chorus is where this song shines, the backing vocals really add a nice layer to the music. 'Opportunistic Politicians' is much faster than their first track to start with but slows down as the vocals come in, this song is a great knock at the government being liars and cheats who only look after themselves.
Bottom Line: You get a few fast and loud Hardcore Punk and some nice Oi! music
Notable Tracks: Power Unpower & Living in a Den of Thieves
Overall Rating: