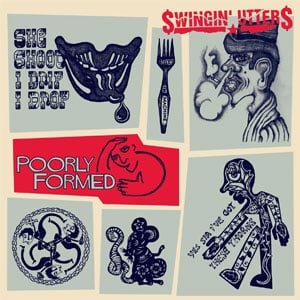 Record Label: Fat Wreck Chords
Genre: Punk Rock
Buy on Amazon.com
The Swingin' Utters' are back with another album after 2011's Under Protest with Poorly Formed. While the album has some good songs on it, I was still wishing it was a little bit better.

The band has come a long way since their first album. Instead of just being a one trick pony punk rock band, the band offers up something different with each release. Songs might be poppier than others, or some songs might tip towards folk. "I'm A Little Bit Country" could be on a Filthy Thieving Bastards album. Besides the awesome "The Librarians Are Hiding Something," the first part of the album is very-non Swingin' Utters to me. The second half is more in line with what I think of when listening to the Utters. "Greener Grass" is a stand-out. It starts off slow with a fiddle and then bam, punk song.
I didn't know Spike left the band until this year. What happened, not enough Italian love songs? Most of the core group are still in the band so most fans should still appreciate this album. I don't think Poorly Formed is their best album, but it still has some good songs on it. I just wish the overall album was better. I kind of wish the band went back to a more punk rock album like Dead Flowers, Bottles, Bluegrass and Bones. That album was just flawless to me.
Bottom Line: Pretty good but could have been better
Notable Tracks: The Librarians Are Hiding Something, In A Video, Greener Grass
Overall Rating: