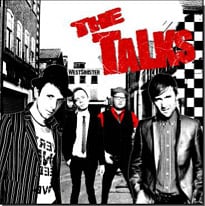 Record Label: All Our Own Records
Genre: Ska
Band Link: http://www.thetalks.co.uk
When reviewing, you come across bands you might not have heard of before. Some will be mediocre at best, but then there's a band that catches you by surprise! The Talks from UK is that band! They embody the 2 tone sound of the Specials and the punkiness of Rancid. I know it's early, but this EP is one of my favorites of 2013!

West Sinister is the latest album from The Talks, which unfortunately is only 5 tracks. Thankfully, the 5 tracks are excellent and makes me crave more upbeat ska/reggae music from the band. I originally heard of the Talks when their music video "Can Stand The Rain" premiered online. The song features The Specials' Neville Staples and it's on this EP as well. It's a fantastic tune! The main sound of the Talks is a bit ska, a bit punk with horns and keys; bouncy 2 tone style ska, which I love a lot! When I listen to the Talks, bands that come to mind include The Specials (obviously), Madness, The Hotknives, and the ska-ish songs of Rancid.
The rest of the EP is more of that, some songs are a lot speedier than others. "Modern Sub Urbanite Life" and their next single "Friday Night" come to mind, and are very skankable tracks. Besides "Can Stand The Rain" being a favorite, the rest of the tracks are some top notch ska tunes! In fact, I'm going to call The Talks the band to watch in 2013! They are getting noticed in Britain and I'm hoping the same thing will follow in the States.
Ska certainly isn't dead!
Bottom Line: Awesome UK ska!
Notable Tracks: Modern Sub Urbanite Life, Friday Night, Can Stand The Rain
Overall Rating: