Various Artists – "While No One Was Looking – Toasting 20 Years of Bloodshot Records"
Album Reviews | Nov 27th, 2014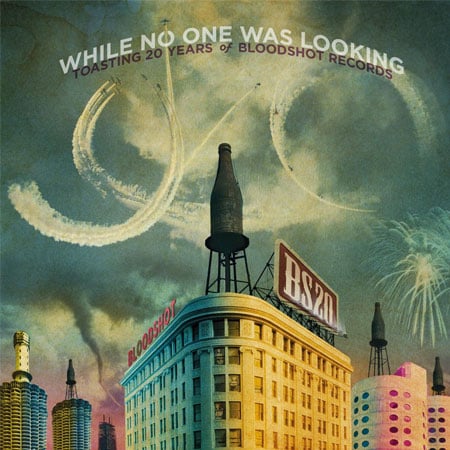 Record Label: Bloodshot Records
Genre: Americana/Country
Buy on Amazon.com
Bloodshot Records is celebrating their 20th year as record label with an awesome compilation featuring top notch folk, Americana and country musicians. The non-label bands/artists are covering songs from Bloodshot Records' vast catalog. It's got Chuck Ragan, Frank Turner, William Elliott Whitmore, Ted Leo, Blitzen Trapper, The Reverend Peyton's Big Damn Band, Andrew Bird, and a lot more!

Blitzen Trapper starts the double album with Ryan Adams' "To Be Young (Is To Be Sad, Is To Be High)" and I really don't know too many Ryan Adams songs but this one I do know. I love the original and Blitzen Trapper does the song justice as well. I'm not familiar with a lot of these bands or the bands that they are covering so this compilation was nice to find some new bands to listen to. After I hear the cover, I have to go listen to the original and see how the original & cover compare.
One band that really stood out was Chris Shiflett and The Dead Peasants covering "Look The Other Way" by Justin Towne Earle. I'm a fan of JTE but haven't really listened to his new(ish) album yet. For whatever reason, never knew Chris Shiflett was in No Use For A Name and Me First and the Gimme Gimmes (as well as Foo Fighters). Another tune I love is Ivan & Alyosha covering Ryan Adams' "The Winding Wheel." I'm gonna have to look up their music, as well as Ryan Adams' music.
Obviously I love Chuck Ragan covering Cory Branan's "Survivor Blues." I'd take a double album just of Chuck Ragan covering all these songs but alas, I'll have to settle with other bands. Reverend Peyton's Big Damn Band is a band I love whenever I listen to them but I don't listen to their stuff as much as I should. Rev's finger-pickin' guitar style is amazing and any song they do is entertaining. They cover Ha Ha Tonka's "St. Nick on the Fourth in a Fervor" and make it even twangier. I actually like Reverend Peyton's Big Damn Band cover better. Frank Turner covers Cory Branan's "The Corner" too but it's a bit too sleepy for me. I love Frank Turner's music though but wish he would speed things up.
Other bands on here I don't really listen to but loved their songs include: Chuck Prophet (covering Andre Williams), Limbeck (covering Old 97s), Tim Kasher (covering The Scotland Yard Gospel Choir), The Minus 5 (covering Mark Pickerel), Andrew Bird & Nora O'Connor (covering Robbie Fulks), Superchunk (covering Ryan Adams), The Handsome Family (covering Bottle Rockets), and Two Gallants (covering Scott H Biram).
I liked the first disc over the second disc. I don't know why that is but I just enjoyed those songs more. The songs were more upbeat I suppose? This is still a great compilation, filled with lots of covers from Bloodshot Records' roster. Now I need to go back and track down those original tracks & albums.
Bottom Line: A cool batch of songs celebrating Bloodshot Records' 20th year as a label
Notable Bands: Blitzen Trapper, Chris Shiflett and The Dead Peasants, Chuck Prophet, Chuck Ragan, Frank Turner, William Elliott Whitmore, Ted Leo, Blitzen Trapper, The Reverend Peyton's Big Damn Band, Andrew Bird & Nora O'Connor, The Handsome Family
Overall Rating: