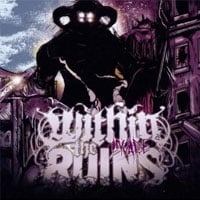 Record Label: Victory Records
Genre: Metal
Band Link: www.myspace.com/withintheruins
Buy on Amazon.com
To metal heads, Within The Ruins' Invade album on Victory Records might not turn any heads but they definitely stood out from the bunch of metal bands I've been listening to & reviewing lately. "Technical" metal is a term being thrown around and I can see that.

I'm not sure where the word technical metal came from but maybe it's just they are very precise with their playing. The drumming has a lots of double bass drum playing (I think?) and the guitars sound like they are from the Trans-Siberian Orchestra. That's not a dig at all…honestly. The tempo is super fast, to the point that it's unbelievable that humans are doing it. The vocals are great and sound tough; something you want to hear in a metal band. Screaming will only take you so far in the scene. The vocals remind me of Jamey Jasta's from Hatebreed a little.
I didn't know what to expect when putting this on but I really liked this album. They guitar playing really impressed me a lot. I found myself tapping my fingers alone, pretending to play the guitar for songs like "Versus," "Ataxia" and "Oath."
Bottom Line: Highly talented metal band that should at least be heard once.
Notable Tracks: Versus, Invade
Overall Rating: