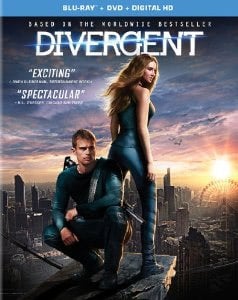 Starring: Shailene Woodley, Theo James, Kate Winslet, Ashley Judd, Jai Courtney, Ray Stevenson, Zoë Kravitz, Miles Teller, Tony Goldwyn, Maggie Q
Written By: Evan Daugherty, Vanessa Taylor
Directed By: Neil Burger
Studio: Lionsgate/Summit Entertainment
Buy On Amazon.com
Divergent had the potential to be a cool movie. In the end, it falls short and is just a typical young adult movie filled with cliches and a terrible soundtrack.

The movie is based on the YA book of the same name, written by Veronica Roth. It takes places in a dystopian Chicago (so present day Chicago then?) and people are broken up into 5 different factions: Abnegation the selfless, Amity the peaceful, Candor the honest, Dauntless the brave, and Erudite the intelligent. The story centers around Beatrice Prior (Shailene Woodley), who grew up in Abnegation. When kids become of age, they can pick which faction they want to go to or belong to. Think of it as The Sorting Hat in Harry Potter. During her test, Beatrice discovers she's divergent, someone who is rare and has the traits of multiple factions. I guess if someone is divergent, they are important and different, but are considered dangerous to the government. I could go on and on about the plot of the movie but it would take 6 paragraphs to explain it.
I didn't have any expectations going into Divergent. It seemed like The Hunger Games and Equilibrium (a little) but didn't turn out to be either of those movies. It had potential to be a cool movie but it just ended up being a typical, teenage-girl-appealing movie with an incredible cheesey & horrible soundtrack. The music producer for this movie should have been fired for picking some lame song choices. See Guardians of the Galaxy for a movie that knows how to do a soundtrack! The songs used (probably ones from Ellie Goulding) immediately take you out of the movie and you just roll your eyes. Even my wife who was a fan of the book series rolled her eyes at the song choices. Just because the movie is based on a YA book doesn't mean you need to soften it up and make it cheesy.
The overall story is kind of confusing but seemed cool enough for me to give it a try. It just wasn't executed properly I think. I didn't read the books so I'm not sure how the two compared but heard some things are different. The movie isn't terrible but it's not great either. It's something to watch when you're bored on the weekend. I don't think the problem with it is the actors, I just think if they went with a more darker approach, it would have been better. With the Hunger Games, you had kids killing each other and people revolting. With this, you have a bunch of idiotic parkour meatheads jumping off trains and that's about it. I don't think enough stuff happened in this movie for it to be all that exciting and the movie felt long too.
The Blu-Ray has a few features worth watching if you enjoyed the movie. There's audio commentaries, there's a featurette (or documentary) on the making-of the movie, deleted scenes and couple other things. The documentary is the biggest sell since it's about 45 minutes long and goes into all different parts of the filmmaking. It's worth watching if you have the time.
Divergent wasn't bad but I thought it could have been a lot better. Perhaps the second movie will be better, I just hope they leave out the girly soundtrack next time around.
Features
Audio Commentary with Director Neil Burger
Audio Commentary with Producers Douglas Wick and Lucy Fisher
"Bringing Divergent to Life" Documentary
"Fraction Before Blood" Featurette
Deleted Scenes
Marketing Gallery
Audio/Video
Video
Widescreen 2.40:1 Color
Audio
Spanish Dolby Digital 5.1
English Dolby Digital Stereo [CC]
English DTS-HD MA 7.1 [CC]
Bottom Line: Not bad but not great either
Running Time: 139 mins
Rating: PG-13
Extras Rating:
Overall Rating: