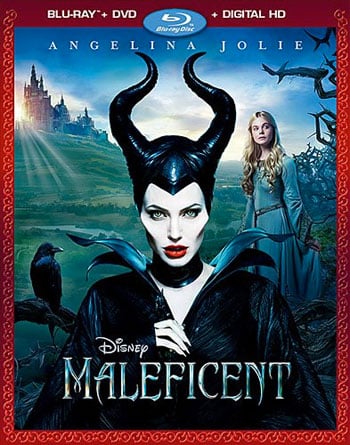 Starring: Angelina Jolie, Brenton Thwaites, Ella Purnell, Sharlto Copley, Juno Temple, Sam Riley, Elle Fanning, Imelda Staunton, Lesley Manville, Michael Higgins, Kenneth Cranham
Written By: Linda Woolverton
Directed By: Robert Stromberg
Studio: Walt Disney Studios Home Entertainment
Buy On Amazon.com
Sleeping Beauty is one of my favorite Disney animated movies so I had high hopes that this would be good. Unfortunately, this movie isn't anything like the classic Disney movie and isn't very good.

The story of Maleficent begins with a young faerie named Maleficent (later on played by Angelina Jolie) that lives in the Moors, a magical world bordering the human kingdom. She falls in love with a young boy named Stefan (later on played by Sharlto Copley), not Bill Hader from SNL. But that love falls apart when Stefan wants to be king more. After battling a grown-up Maleficent, the King passes his crown onto the person that can defeat Maleficent. Stefan tricks her into thinking he loved her and takes her wings. That's when the shit hits the fan and eventually Maleficent curses King Stefan's daughter, Princess Aurora (Elle Fanning).
As you can tell, or maybe not, that the story is vastly different from the Disney classic. They try to humanize Maleficent and soften her up. Why not just have some villain curse an innocent baby like it was originally? Everything was Disney-ified pretty much. Put a stupid happy ending on everything and make a bland, boring fantasy movie. That's why I loved Sleeping Beauty in the first place, it was one of the darker Disney animated movies. This movie is pretty much Angelina Jolie making evil faces, walking in slow motion and then stalking Princess Aurora. Seriously, she was watching her from the woods half the movie.
I didn't like Sharlto Copley as the King either. I don't know, I just don't think he's a good actor or maybe it was just this movie. Angelina was pretty awful in this as well, especially when she was shouting. In the animated movie, I loved the pixie fairies but with this movie, they weren't that interesting. About the only positives I can think of were the special effects. Well, good for the most part. The closeups of people flying was a bit lame. Story was awful, acting wasn't great and I felt like turning this movie off about 20 minutes into it. I really wanted to like this but it just got worse and worse.
The special features for the movie are your usual stuff. There's quick featurettes about turning this movie into something different from the source material, there's one about Elle Fanning's character, one about the special effects and thats really about it. Just like the movie, nothing too special.
I was hoping this movie might be fun and entertaining, instead it just ended up being boring with Angelina Jolie making all these "evil" faces all the time. Then in the end, the villain doesn't become the villain after all. So stupid. If you're expecting Sleeping Beauty, you will be disappointed big time. Stick with the old Disney classic.
Features
Aurora: Becoming a Beauty
From Fairy Tale to Feature Film
Building an Epic Battle
Classic Couture
Maleficent Revealed
Deleted Scenes
Video
Codec: MPEG-4 AVC
Resolution: 1080p
Aspect ratio: 2.40:1
Original aspect ratio: 2.39:1
Audio
English: DTS-HD Master Audio 7.1
French: Dolby Digital 5.1
Spanish: Dolby Digital 5.1
Subtitles
English SDH, French, Spanish
Bottom Line: Boring and not that great
Running Time: 97 mins
Rating: PG
Extras Rating:
Overall Rating: