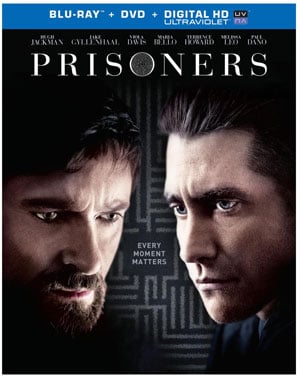 Starring: Hugh Jackman, Jake Gyllenhaal, Maria Bello, Paul Dano, Viola Davis, Melissa Leo, Terrence Howard
Written By: Aaron Guzikowski
Directed By: Denis Villeneuve
Studio: Warner Bros
Buy On Amazon.com
I didn't think much of Prisoners when I saw the previews for it but it's a thrilling drama that should be watched at least once.

Prisoners is about Keller Dover (Hugh Jackman), who is celebrating Thanksgiving with his family and neighbors, The Birches. The families' daughters were seen outside playing by some camper and then went missing after dinner. Hours went by and they still didn't turn up and everybody fears the worse. The only suspect is a young guy who has the IQ of a 10 year old. Keller thinks he did it even though there's lack of evidence that he did the kidnapping, so he's released. Detective Loki (Jake Gyllenhaal) continues his separate search of the kidnapper but Keller decided to take matters into his own hands.
I didn't know what to expect from Prisoners but I ended up really liking the movie despite a few problems I had with the movie. The main problem I had with the film was the very end. Was it really necessary to go all Sopranos/Inception Finale on us? I guess either way, there wasn't going to be a happy outcome with that character. Still wouldn't have been nice to know what exactly happened instead of having to theorize about it. I just think those endings are cop outs. The other problem I had was the length of the movie. I think a half hour probably could have been cut out.
The performance of Hugh Jackman is quite notable and one that might be recognized when award season hits in full swing. Paul Dano always plays creepy & brain dead real well and this time he's both. The scene where he's beaten to a pulp and he's got this ugly eye is just creepy looking. It felt like something out of a horror movie. Jake Gyllenhaal was also very good as Detective Loki. There wasn't much to his character and was more of the straight-laced type of characters this time around. Melissa Leo isn't in the movie that much but the scenes she's in, she's real good.
For a kidnapping thriller, the movie certainly had a lot of mysterious things to it. It's definitely not your normal kidnapping movie. I think that's part of the reason why I like this movie so much, that it has this mysterious maze pendants that Loki was trying to solve along with the kidnapping. The movie also raises questions on how far you would go to get your children back. In the end, Keller Dover was no different than the kidnappers.
The Blu-Ray didn't really have that many extras on it and just had 2 fluff pieces that were short. I'm not sure Prisoners is the type of movie I'd watch over and over but its a great film to see at least once. I'd definitely put this one on my Best-Of list for the year too!
Features
Prisoners: Every Moment Matters – Hugh Jackman and Jake Gyllenhaal Explore The Tense Relationship Between Keller and Loki
Prisoners: Powerful Performances – Get Up Close And Personal With This All-Star Cast
Video
Widescreen 1.85:1 Color
Audio
French Dolby Digital 5.1
Spanish Dolby Digital 5.1
English DTS-HD MA 5.1
Bottom Line: Thrilling drama with great acting in it
Running Time: 153 mins
Rating: R
Extras Rating:
Overall Rating: