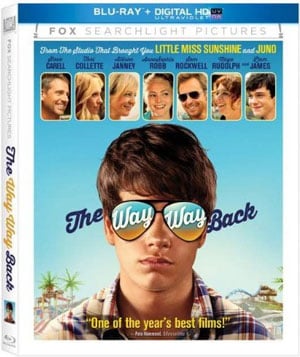 Starring: Liam James, Steve Carell, Toni Collette, Sam Rockwell, Allison Janney, AnnaSophia Robb, Maya Rudolph, Rob Corddry, Amanda Peet, Nat Faxon, Jim Rash
Written By: Nat Faxon, Jim Rash
Directed By: Nat Faxon, Jim Rash
Studio: Fox Searchlight
Buy On Amazon.com
The Way, Way Back is a "coming of age" drama that will make you laugh and think back to when you were growing up. Not only is the story original and pretty damn good, the movie has an all-star cast as well.

The movie is about 14 year old Duncan (Liam James) being dragged on a family vacation to Cape Cod with his mom (Toni Collette), mom's overbearing jerk of a boyfriend (Steve Carell) and his daughter Steph (Zoe Levin). Duncan is an awkward dork like most 14 year olds, and particularly hates his Mom's boyfriend Trent. To escape being around his family during the vacation, he takes bike rides around the town and comes across the local water park. He becomes friend with the manager and owner, Owen (Sam Rockwell). Owen ends up giving him a job and essentially becomes a big brother to Duncan and teaches him to relax and enjoy being a teenager.
When I saw the trailer for The Way, Way Back, I thought I was going to like this movie and I was right. It's unfortunate summer is over because it really puts you in the mood to go on a beach vacation. The movie definitely brought back memories of when I was Duncan's age and an awkward teen who couldn't talk to girls and wasn't outgoing. It also brought back memories of water parks, which I went to in my youth like the water slides in Long Beach Island or Action Park in Vernon, NJ.
If I had to describe this movie, I would say it's a drama with funny things in it. I wouldn't necessarily call it a comedy though. The script is outstanding and Jim Rash and Nat Faxon are on a bit of a hot streak when it comes to screenplays lately. Having them in their own movie also helps lighten the mood as well. Having a good script is one thing, but when you have a terrific cast supporting that dialogue helps things out tremendously.
Liam James plays the awkward teen to a T, and the fact he told Jim and Nat that he was pretty much this character helped him get the role. Steve Carell changes things up a bit and isn't the likable guy he has been in movies and TV lately. He plays a douchebag very well. I think the other standout performance is Sam Rockwell, who you wish you were. Well maybe not running a water park, but you know what I'm saying. The character of Owen is so cool, laid back and relax. I feel like I could use some of his advice on how to be that way now. Sam Rockwell said he modeled the character after Bill Murray in Meatballs but I also got a Val Kilmer in Real Genius kind of vibe too. Sam Rockwell definitely knocked one out of the park with this role. I was hoping he was going to slug Steve Carell at the end but still happy he somewhat confronted him.
The Blu-Ray special features include a half hour behind the scenes featurette, some smaller featurettes about the water park, deleted scenes, and few others things. The half hour featurette was really good and Jim and Nat talked about writing the movie, casting it, and filming in Massachusetts. Jim mentioned he wrote a lot of scenes that happened to him in his youth, and they joked maybe keyboards were ruined from his tears.
The Way, Way Back has that nostalgic 80s comedy/drama feel, like something John Hughes would write & direct. The movie has an outstanding screenplay, cast, soundtrack and it's one of the better movies I've seen this year.
Features
More Laughs With The Hilarious Cast & Filmmakers In The Making Of The Way, Way Back
Deleted Scenes
Behind The Scenes Featurettes: Tour Of The Water Park, The Filmmakers: Jim And Nat, Ensemble Featurette
Audio/Video
Video
Widescreen 1.85:1 Color
Audio
Spanish Dolby Digital 5.1
French DTS 5.1
English DTS-HD MA 5.1
Bottom Line: The Way Way Back could be one of the best movies I've seen this year
Running Time: 103 mins
Rating: PG-13
Extras Rating:
Overall Rating: