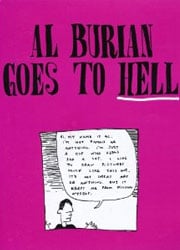 Author: Al Burian
Publisher: Microcosm Publishing
Genre: Mini-Comic
Pages: 82 pages
This comic follows Al Burian as he complains about his life and wallows in existential emptiness. The illustrated vignettes of "my life sucks" is interspersed with passages from Dante's Inferno, just in case the ridiculous amount of self-pitying was too subtle for you.

At least Burian's cartoon stand-in is the first to admit his narcissism, but it doesn't make it any less excruciating. On the plus side, there are a few humorous moments (some unintentional), and the stark, simple style makes such dark material a breezy read.
Bottom Line: Exasperatingly self-indulgent comic writing at its worst.
Overall Rating: