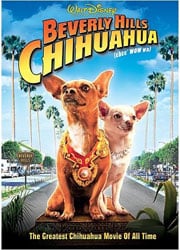 Image used with permission for review purposes.
Starring: Drew Barrymore, Andy Garcia, Jamie Lee Curtis, George Lopez, Manolo Cardona, Piper Perabo
Written By: Analisa LaBianco, Jeffrey Bushell
Directed By: Raja Gosnell
Studio: Disney/ Buena Vista
Buy On Amazon.com
You remember that annoying Beverly Hills Chihuahua trailer you saw in front of every movie? Well based on that trailer, my girlfriend wanted to see this. I didn't, but figured I'd give it a shot anyway just for shits and giggles. With that said, Beverly Hills Chihuahua is targeted for little children and dog lovers. You're going to dread this if you're neither of those.

Beverly Hills Chihuahua is about Chloe (voiced by Drew Barrymore), a spoiled Chihuahua who's owned by a Beverly Hills rich lady Viv (Jamie Lee Curtis) who pampers her dog and spends all of her fortunes on it. One day, Viv's niece Rachel (Piper Perabo) gets picked to watch Chloe while Aunt Viv is away. She decides to go down to Mexico with her girlfriends to party, and brings Chloe with her. While she is out and acting like a dumb rich bitch, Chloe escapes and gets captured by people who put on dog fights. Yes, this is a Disney film that includes dog fights, crossing the border and other fun topics. I'm surprised the drug cartel didn't show to tap dance to the Chihuahua song. Anyway, Chloe ends up getting help from a German shepherd Delgado (Andy Garcia) and the two dogs try to get Chloe back to Rachel and her owner. But they have the dog-nappers on their trail. While that is happening, Rachel gets help from Viv's landscaper and his Chihuahua Papi (George Lopez), who's in love with Chloe.
As you can tell, I didn't want to see Beverly Hills Chihuahua at all. I like dogs but I still had no desire to see this movie. My girlfriend didn't even like it, in fact she fell asleep. I should have just shut it off at that point. Now don't get me wrong, I like a kids movie from time to time; but this was a big old piece of dog crap. Talking dogs aside, there's not much going for this. Even though there are a lot of good actors that voiced the dogs, the acting was terrible. It was just flat, boring, and uninspiring voice-over work. The story was stupid, and the soundtrack was stereotypical and bland. Just imagine every one hit wonder from the 90s and 00s and you'll hear it in this movie. I was just waiting for the "Macarena" to come on. The dialogue consisted of standard Mexican jokes, which will probably be insulting to most Mexicans. But then again, when you have George Lopez in your movie, you're going to get boring Mexican jokes. If I were these actors, I'd remove my acting credit from this movie.
The extras on the DVD include deleted scenes, bloopers, animated short and audio commentary. Since I barely made it through the movie, I didn't even bother to check out the DVD extras.
If you have kids, they MIGHT like Beverly Hills Chihuahua. They might be completely bored by this movie, or just think it's dumb. Adults won't find this entertaining at all, and if you do, then I guess you like movies with the Olsen Twins in it. If your kid likes this, I feel sorry for you because you'll probably end up watching the movie over and over. Kids can't just see a movie once! I felt Beverly Hills Chihuahua was stupid, badly acted, poorly scripted and was just an overall bad movie. If you like dog movies, find something else that's more entertaining.
Features:
– Deleted Scenes With Introductions By Director Raja Gosnell
– Blooper Scooper
– Legend Of The Chihuahua: Animated Short
– Feature Audio Commentary By Director Raja Gosnell
Video:
Widescreen 2.40:1 Color (Anamorphic)
Standard 1.33:1 Color
Audio:
ENGLISH: Dolby Digital 5.1 [CC]
SPANISH: Dolby Digital 5.1
FRENCH: Dolby Digital 5.1
Subtitles:
English, Spanish, French
Bottom Line: Awful!
Rating: PG
Running Time: Endless
Extras Rating:
Overall Rating: