Black Sheep- Blu-Ray Edition
DVD Reviews | May 18th, 2009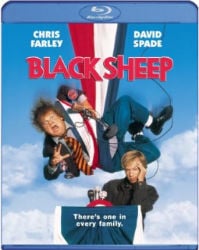 Image used with permission for review purposes.
Starring: Chris Farley, David Spade, Tim Matheson, Christine Ebersole, Gary Busey
Directed By: Penelope Spheeris
Written By: Fred Wolf
Studio: Paramount Pictures
Buy on Amazon.com
Tommy Boy 2, err I mean Black Sheep, starring the late great Chris Farley and David Spade, is a funny comedy about a powerful brother running for Governor (Matheson) his bumbling brother Mike Donnelly (Farley), and Steve Dodds (Spade), the Governor's aide assigned to keep tabs on the trouble making brother. A film that had its share of laughs, but will always be compared to Tommy Boy, which was a superior film.
Al Donnelly is running for Governor in the state of Washington, and his worst enemy, his brother Mike, although not intentionally. Caring and lovable, Mike is just trying to do what's right by supporting his brother, but he constantly ruins that by his blunders. Assigned to baby sit Mike essentially, is the Governor's aide, Steve. Forced to "campaign" in the mountains away from the political arena, Mike and Steve still manage to hit a few snags campaigning. One of the best parts of the film is during there scenes in the cabin, where they have to fend off a crazy bat, a pack of wild teenagers, and their roof falling off their cabin. A fitting character, Drake (Busey) an outrageous mountain militant man is played by a lunatic in real life, and ties into the final 3rd of the film.
The buddy film pairing of Farley and Spade were supposed to be the next big comedy duo, but that day ended on a very sad day in the comedy world, when Farley passed. This film was one of the last good films Chris Farley was in. The film was not as funny as Tommy Boy but it had its moments, with lines that I still quote to this day: "I got dibs on top bunk!" or "Ro-a-d."
Unfortunately, no extra features were on this set. You think an outtake or deleted scene section would be at least included but nothing was available. I think this film set suffers because of that. The high definition transfer of the film is average for a film in the 90s. It's not excellent, but decent. The film grain is noticeable in some scenes, and that can take away from the experience. The film offers a few laughs but it feels rushed and cramped with a short running time of only 86 minutes, it still is enjoyable to watch after all these years.
Features:
N/A
Audio:
ENGLISH: Dolby TrueHD 5.1
SPANISH: Dolby Digital 5.1
FRENCH: Dolby Digital 5.1
Video:
Widescreen 1.78:1 Color
Subtitles:
English, Spanish, French, Portuguese
Favorite Scenes: The cabin, Rock the Vote, Roooaddddddd
Rating: PG-13
Running Time: 86 mins
Extras Rating: N/A
Overall Rating: