Cop Out: Rock Out With Your Glock Out Edition
DVD Reviews | Jul 21st, 2010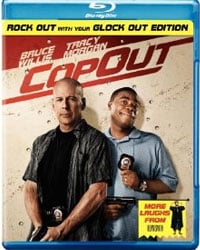 Starring: Bruce Willis, Tracy Morgan, Guillermo Diaz, Kevin Pollak, Seann William Scott, Adam Brody, Jason Lee, Michelle Trachtenberg
Written By: Mark Cullen, Robb Cullen
Directed By: Kevin Smith
Studio: Warner Bros
Buy On Amazon.com
Cop Out, or also known as A Couple of Dicks, seemed like it had potential to be a funny buddy cop movie. Kevin Smith directed the movie, Bruce Willis and Tracy Morgan star and it just seemed like an interesting combo. But for some reason, the script is beyond generic/cliche and many of the jokes fall flat. If you're expecting a Kevin Smith movie, you will be disappointed!

Jimmy Monroe (Bruce Willis) and Paul Hodges (Tracy Morgan) are long term NYPD detectives who end up getting suspended. They get suspended for not catching a gang member, having a shootout in a neighborhood and Paul ends up beating up a kid and stealing his bike. Jimmy is upset over the suspension since he has to pay for his daughter's expensive wedding. He decides to sell his extremely rare Andy Pafko baseball card that's worth thousands of dollars. But things go very wrong when trying to sell it at a baseball card shop. The place gets robbed and Jimmy gets tased in the process. They track down the thief Dave (Seann William Scott), who ended up selling the card for drugs to the gang leader they were trying to arrest in the first place. In between trying to get the stolen card back, they have to deal with a Latina woman locked in the trunk of a car, a 10 year old car thief and the parkour thief Dave acting like a adolescent.
I didn't have any expectations when seeing Cop Out, but this movie could have been a lot better. I didn't outright hate this and enjoyed the movie when I was watching it. It just felt very generic, and something we've seen a ton of during the 80s. I think everyone involved could have done better, including the actors. Kevin Smith was hired to direct this movie, so he didn't write this. The only thing Kevin Smith-y about this is using some actors he's used before like Jason Lee. Tracy Morgan is funny on 30 Rock but it just seems like he plays the same character. Same can be said for Bruce Willis as well. I would have liked to have seen more from Kevin Pollak and Adam Brody's characters. But even with their storyline, that has been done to death as well. Competing cops that make fun of the other cops, and then all team up and help each other out in the end. It's just been played out to death.
Speaking of the '80s, it was nice to hear Harold Faltermeyer composing scores again! His score had a very Fletch/ Beverly Hills Cop feel to it. I think another highlight for this movie was Seann William Scott. His character made me laugh several times, just because how stupid and annoying he was. He would use these playground tactics like repeating words that the other person would say and act immature. I also liked that Jimmy and Paul had to go up against a 10 year old car thief. That was amusing.
The Blu-Ray has a few extras like extra scenes and outtakes, and other featurettes but none of that is on the DVD. It's kind of disappointing to see that DVD isn't being catered too as much now. I know I have to get a Blu-Ray player but would have to update my TV and sound system first. That stuff requires money unfortunately. But I'll just assume that the extras were okay.
Cop Out wasn't horrible, it just wasn't anything original. Everything you see in the movie has been done before, and better too. Who knows how this movie might have been if Kevin Smith wrote the movie, but probably would have involved Dante and Randall as the cops instead.
Features:
Never Before Seen Extended Scenes And Outtakes
PIP Moments With Kevin Smith And Seann Williams Scott
Walks-On By Kevin Smith
Wisdom From The S*** Bandits
Factoids About The Movie
Includes Standard DVD Copy Of Cop Out
Includes Digital Copy Of Cop Out For Portable Media Players
Video:
Widescreen 2.40:1 Color
Screen Resolution: 1080p
Audio:
ENGLISH: DTS-HD MA 5.1
SPANISH: Dolby Digital 5.1
FRENCH: Dolby Digital 5.1
Subtitles:
English, Spanish, French
Bottom Line: Had potential to be a funny buddy cop movie but ended being a generic comedy
Running Time: 107 mins
Rating: R
Extras Rating:
Overall Rating: