Toy Story 3 (Four-Disc Blu-ray/DVD Combo + Digital Copy)
DVD Reviews | Nov 3rd, 2010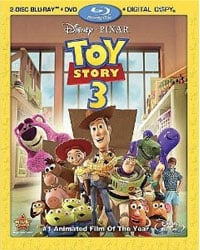 Starring: Tom Hanks, Tim Allen, Joan Cusack, Michael Keaton, Wallace Shawn, Estelle Harris, Ned Beatty, John Ratzenberger, Don Rickles, Blake Clark, Whoopi Goldberg, John Morris
Written By: Michael Arndt
Directed By: Lee Unkrich
Studio: Disney / Buena Vista
Buy On Amazon.com
Toy Story 3 is Pixar's latest achievements and it's also one of the best movies of the year! None of the Toy Story movie were bad in any way. That's a rare thing these days; a movie studio making consistently good movies. If you loved the first two films, wait until you see Toy Story 3!

The movie takes place many years after Toy Story 2. Many toys that belonged to Andy are now gone. The main group of toys still exist but they are worried they aren't going to be played with again since Andy is going off to college. While Andy is cleaning up his room, he chooses Woody to go to college with him and everyone else is put in a trash bag meant for the attic. Andy's Mom mistakes that bag for trash but the rest of the toys escape that and put themselves in a box going to Sunnyside day care. Woody tries to convince them to stay but they think Sunnyside is a lovely place. That's until they realize the place is like a prison, run by Lots-O'-Huggin' Bear. Woody tries to find a way to free them and get back to Andy's before he's gone off to college.
After all these years of wanting another Toy Story movie, the wait has been worth it. I didn't think it could top or equal Toy Story 2, but Toy Story 3 certainly does. Pixar continues its track record for it's excellent storytelling and releasing movies that children and adults can relate to and enjoy. Toy Story 3 is funny, sweet, and sad at times. Depending on if you have a heart or not, I was certainly getting kind of weepy during the fire pit scene as all the toys were holding hands together. Some might have been a bit weepier after that part when the toys were handed off. But besides those scenes, I had a giant smile on my face the entire movie. It's something about Toy Story movies that makes me grin like a kid in a candy story. Everything from the brilliant western opening to the the great escape finale, I just loved this film.
The small details that Pixar puts into movies is impeccable. Everything down to Ken's walk, the dirt on the toys, the way kids torment their toys; it's the details that I love about Pixar movies. They have lots of hidden references to movies and other Pixar movies. Did you know that the garbage man kid was Sid from the first movie?! The addition of Ned Beatty as Lotso and Michael Keaton as Ken were perfect choices. Who would have thought Ned Beatty could play a villain so well. Michael Keaton proves that he should go back into comedy because he absolutely stole the movie. Every time he was on the screen, he was hilarious! The webisodes on YouTube starring him are hysterical as well. The one casting worry I had was about re-casting for Slinky Dog, since Jim Varney passed away. Who was going to voice him? Blake Clark, who you might have seen in Home Improvement and other movies & TV shows took over the voice-over duties. I can't think of a better replacement than him to voice Slinky! The rest of the cast was excellent as usual, which is why these movies are perfect to begin with.
The Blu-Ray/DVD combo has a few things to watch after you're done with the movie. The great short Day & Night played in front of the movie is on disc 1. I loved that one and I just get blown away with the ideas they come up with animated shorts. Disc 2 contains a lot of the meat of extras: featurettes, trivia, studio stories, and loads more. It will take you a bit of time to get through them but if you're interested in the behind the scenes stuff at a animation studio, you'll like this stuff. Making me watch that stuff makes me kick myself for not finding a job at a movie studio. The DVD contains some things but not as much as the Blu-Ray obviously. I'm just glad I finally have Blu-Ray to watch all this stuff now!
Toy Story 3 isn't necessarily my favorite Pixar movie or favorite in the Toy Story series but it's certainly a wonderful movie. I love them all basically! Up & Wall-E I think are still my favorite Pixar movies to date but the Toy Story films have a special place in my heart. They are remarkable and I can't wait to show my kids this (when I have them)!
Features:
Disc 1: Blu-ray
Day & Night Theatrical Short
Buzz Lightyear Mission Logs: The Science Of Adventure
Disc 2: Blu-ray
Toy Story Trivia Dash
Cine-Explore With Director Lee Unkrich & Producer Darla Anderson
Beginnings: Setting A Story In Motion
Bonnie's Playtime
Roundin' Up A Western Opening
Beyond The Toy Box: An Alternative Commentary Track
Paths To Pixar: Editorial
3 Studio Stories
And More
Disc 3: DVD
Day & Night Theatrical Short
Buzz Lightyear Mission Logs: The Science Of Adventure
The Gangs All Here: A Look At The Returning Voice Talent
3 Studio Stories
Plus Much More
Includes Digital Copy Of Toy Story 3 For Portable Media Players
Video:
Widescreen 1.78:1 Color
Screen Resolution:
1080p
Audio:
ENGLISH: Dolby Digital Stereo
ENGLISH: DTS-HD MA 7.1
ENGLISH: DTS-HD MA 5.1
SPANISH: DD-EX 5.1
FRENCH: DD-EX 5.1
Subtitles:
English, Spanish, French
Bottom Line: One of the best movies of the year!
Running Time: 103 mins
Rating: G
Extras Rating:
Overall Rating: