Bad Company and Doobie Brothers @ Bethel Woods Center for the Arts, NY
Live Reviews | Jun 28th, 2009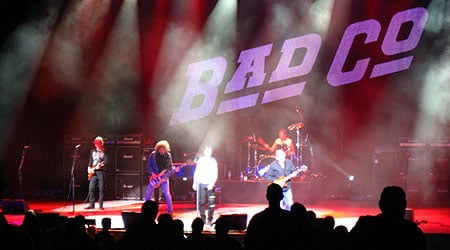 Photo by Bryan Kremkau
Date: June 27th 2009
Band Links: http://badcompany.com, http://www.doobiebrothers.net
The second concert of Bethel Woods summer concert series was an excellent one! The legendary Bad Company reunited once again to play a packed house at Bethel Woods Center for the Arts in Bethel, NY. One of my favorite classic rock bands The Doobie Brothers opened up for the band and the concert was one of favorites of the year!

I decided to avoid the traffic this time around and come to the venue 2 hours before show time. The parking lot opens up that time and you're only in 5 minutes of traffic as oppose to 45 minutes of traffic if you show up later. Earlier in the day, there was a thunderstorm briefly so I was hoping the weather would hold out. Thankfully it did. Originally I thought I was sitting in the lawn section but got to sit in the pavilion seats. The beach blanket I brought came in handy later on when it got colder out. From what I can tell, Bethel Woods looked even more packed than the Chicago & Earth, Wind and Fire concert. Not all the seats were filled but the venue was still jumping from fans ready to hear some excellent rock n roll!
Doobie Brothers came on stage around 8:15pm and rocked from start to finish! "Take Me In Your Arms (Rock Me)" opened up the set, and the crowd was loving it. Well the ones that were seated and ready. A lot of the people were still finding their seats since the band just came on out of nowhere. Maybe they were sitting in traffic? After that, they played "Jesus Is Just Alright." During the middle of the set, the band showcased a new song which sounded really good. I believe the song was called "Back to the Chateau."Pretty much all the classics were played including "Rockin' Down the Highway," "Long Train Runnin'," "Nobody," and "Black Water." They played "Takin' it to the Streets," obviously without Michael McDonald. Pat Simmons and Skylark handled the singing duties for that one. While the song still sounds great, it's just not the same without McDonald. At one point, the Doobies covered "Little Bitty Pretty One" which was one of my favorite songs of the evening. The band came back to play classics like "China Grove" and "Listen to the Music." "Listen to the Music" is my Zen song, I just put that song on while I'm driving home from work and it puts a big smile on my face. I don't know why that is.
I loved every minute of their set just because I've never seen the band play before. The Doobies are one of my parents' favorite bands and they saw them play back in the day with Michael McDonald. McDonald hasn't been with the band for awhile but pops up here and there to perform with them. Not sure when the last time that was though. But the original members Pat Simmons and Tommy Johnston are still with the band. Regardless of who's in the band now, the band sounded amazing! I've been listening to Doobie Brothers for years and glad I finally got a chance to see them.
The Doobie Brothers set was excellent alone in and of itself, but I couldn't believe Bad Company were up next. Talk about 2 big headliners in one concert. The original lineup of Bad Company (minus Boz Burrell who passed away in 2006) are back together for 10 reunion dates; Bethel Woods was one of those dates. I felt I was lucky to have seen the band on one of their few dates. I knew only a handful of Bad Company songs in the past but lately been listening to them a lot more; knowing that I was seeing this concert. Thankfully I knew most of the songs being played so I appreciated Paul Rodgers and company a lot more. Funny thing is, few months ago I didn't even know the band was British! Come on, admit you, Paul Rodgers sings like he's from the South.
The band came out and played a great song right off the bat with "Can't Get Enough." I heard Paul Rodgers was a great frontman, and that was certainly the truth. The singer has quite the voice, and for being almost 60; looks like he could seriously kick my ass if he had to. Rodgers is one of those singers that hams it up on stage, giving photographers plenty of rock poses to pick from. I love it when he spins his microphone stand around. I wished I had a photo pass at that moment but my girlfriend's Canon Powershot point & shoot camera did a decent job from my seat. Not the same as a Nikon D300 of course but it did the job.
(I believe) the original members have only played 1 gig in the last 10 years together. Other than that, each member has done their own thing and Paul Rodgers was fronting Queen or doing his solo material during that time period. So it was something special to see the band perform last night. Throughout the set, Bad Co played the songs fans wanted to hear like "Ready for Love," "Rock Steady," "Rock and Roll Fantasy" "Feel Like Making Love," and "Shooting Star." I loved hearing the last two songs but mostly I just loved the entire set. What was unusual was seeing a lot of the audience take off after hearing "Feel Like Making Love." The band doesn't play together that often yet everyone leaves early on in the set. I don't get that at all; maybe they had to get their kids from the babysitters? I particularly loved when Pat Simmons, Tommy Johnston, and John McFee came on stage to play with Bad Co for "Rock and Roll Fantasy." Paul Rodgers said they never tried that so it was something new apparently. Sounded good to me! Another song that sounded brilliant was the acoustic song "Seagulls" that Rodgers and Ralphs performed. For the encore, the remaining audience members got to hear "Movin' On" and "Bad Company." I thought it was a fitting end to a brilliant evening with the song "Bad Company." Hearing Rodgers perform live just goes to show you he's still one of the best singers ever.
This concert was excellent and probably one of my favorites of the year so far. You can't ask for a better tour in my opinion. Well, add Jethro Tull, and that would be my dream lineup for a tour. I felt it was worth sitting in some traffic on the way home just to see the end of the concert. It's just not every day you get to see Bad Company and Doobie Brothers together for a concert! If you haven't been to Bethel Woods yet, be sure to get over there this summer! And if you happen to live near the remaining dates of this tour, get your ass over there and see this tour…pronto!
Here are the photos I took from the concert. They were taken with my girlfriend's Canon Powershoot 880IS, which is not my usual camera.