Edna's Goldfish @ The Wetlands, NYC
Live Reviews | Oct 1st, 2000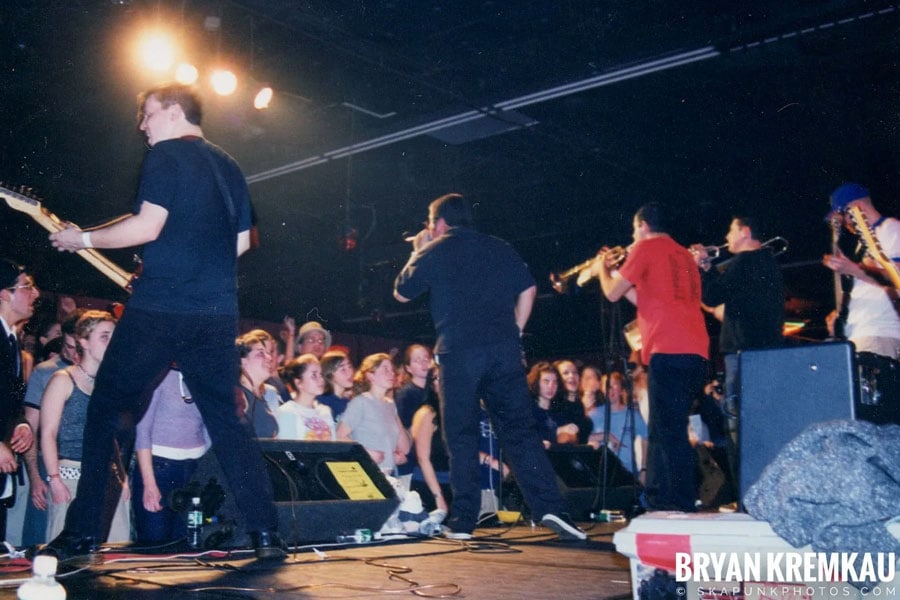 Photo by Bryan Kremkau
Opening Bands: Pilfers, The Gadjits, Step Lively
Date: October 1st 2000
Venue: The Wetlands, NYC
Well….Wow, this show was the best one I've been to in a very very long time, flat out. Lately I've been to shows that just weren't doing too much for me. I've left the shows I've been to since the Warped Tour with a sort of empty feeling… After this show we were walking back to the subway andI had so much energy still… I kept screaming "That was fucking amazing!" to my friend Petey who went with me, over and over again. So here's the lowdown on it all. I woke up at 7 freaking AM (yes AM) in the morning, got ready and left my house in time to get the 8:50 train to Grand Central Station from New Haven. (Thank god Petey's father works for Metro North…

SO much better to ride for free.) Train ride down was uneventful. I listened to RxBandits and a mix CD I had. I kept banging my head to the music and singing a bit, and I think I was scaring the people around me. A tall, blond kid with rubber band bracelets, a chain necklace, wallet chain, and bright bleached blond hair signing and jamming… Yeah, I think the world fears me. What then… We got to Grand Central Station at around 11:10 or so, so we were golden. Took the Subway to Canal St. And got lost a tiny bit. But… There were cops like mad around us, so we kept asking and getting pointed in the right direction. Only the last cop we asked pointed us the wrong way onHudson St… So after much walking the wrong way, these 2 nice girls set us straight. (Oh, get this too. I asked a guy if he knew where the Wetlands-Preserve is and he said, in PERFECT FREAKING ENGLISH, "I don't speak any English."… BULL…)
So whatever, we get to the Wetlands at around 11:25 or so and there are only 2 girls there waiting. They'd been there since 10:30. Damn yo, that's early. Too bad they lived in Jersey and we were up before them. So screw all that. We waited in line forever. Met some cool girls and all their friends from New York. (Damn they let a ton of people cut, but it was cool, cause they were there early…) (Aww, and Edna's Goldfish comes on my playlist as I'm writing this… It's "Invincible" for those of you that care….) They started letting people in late, what a surprise. And the bouncers at the door were dicks, but it was all good. Why? BECAUSE I GOT IN! I don't care if everyone else got in or didn't. I did. I got my ass up early just to make sure I did. So………………The bands. (Damn this is gonna be a rant and a half…)
First up were the Gadjits, and while I've seen em before, I don't know. This time I really really loved their set. The other 2 times I saw them I wasn't too into them, but this time… Was great! I even bought their first cd later on that night. So if you were there and didn't like em, I'm sorry because I thought the freaking rocked, and when they said to say "Amen!" my voice rang out just as loud. Side note here: The lead singer only broke 3 strings this time, I've seen him break 4 at one show.
After them was… Step Lively. While I only saw them for the first time a year ago,they are perhaps one of my favorite bands as of now. Yeah, people can claim I hardly know them and all, but I saw them 7 times in that year, so eat me if you want to say that. They rock anyway. And you know what??? THEY HAD HORNS!!!!! And even better? They played "Parker's Last Stand"!!!! God, I love that song. I really do. I can't say too much really… Their set to me was completely emotional… They played "Price I Pay", "Without a Doubt", "Sea of Strangers"… Tons more too. Wish they had played "Isabella" though, but oh well. And of course they played "You Don't Know Jack" as their last song, and I was screaming the lyrics right up at em too. The last time ever for Step Lively…. Man I'm gonna miss those guys. They were all such amazing people too….. To all the guys in Step Lively, thanks for the music…
And next, the "Secret" band…Well it could have only been Catch 22 or Pilfers. Maybe a handful of others, but those 2 were most likely in my mind. It was.. Pilfers! Catch 22 was there but didn't play. (Wish they had…) Oh well. Pilfers played an INTENSE freaking set, and you know at the beginning of it I was kinda not too much into it, but Coolie works the crowd like magic. Though I have to say I really didn't like the new song they premiered too much. Called "Somebody has to Leave" I believe, it was rather hardcore and… Hmm not sure how to describe it. Hope I got the name right. Pilfers can be amazingly ska at points, and then get… Weird. IE live shit where Coolie has people pair up…. Whacked I tell you. Cool to some extent, but… When I first got into the Pilfers I was so damn h/c Pilfers it was sick. I still love them and listen to them often but.. They are different to me now. Anyone else feel like this? What else..
Oh yeah, Edna's Goldfish played too.But… I spent most of their set attempting to get everyone from Step Lively to sign posters for a friend of mine who couldn't make it. (I am such a niceperson… My heart is entirely made of gold..) This involved somehow moving all around the tiny ass Wetlands searching and searching…But I got to view their set from all angles, and it was great. Absolutely great. Did they NOT play a certain song somebody wanted them to play? They played "Eventually Anyway", so I was happy basically…. Too bad Brian cut himself… Ummm. Yeah, the played "Veronica Sawyer" last, what a shock. Now I think of it like this… I counted 5 horn players on stage at that point I think. That is only if Mike from Step Lively was playing histrumpet, which I couldn't tell from my point of view. Either way, it freaking rocked so damn hard…. And that's it for the show. I bought a Gadjuts CD which I love. (Tim Armstrong produced it!!! And Vic from Slackers guests on it!!!!) Ummm… Oh, the way home too. Well we took the train back and we stopped at every damn stop on the way back and that sucked and all, but get this. Driving on the highway home, we pass this mini van, and it's two middle aged ladies and they look at us queer and all, and whatever. We pass em, and move on with our business. So a minute later they FLY by us. Now we're doing 80 or so, and they flew by us doing around 90 or so. I had no clue a mini van could go that fast… And then they slowed down! So my friend Peter and I decide to play around a bit… We caught up to em, and flipped em off. Our right and all. And on ensued a race…. All I can say is FUCK soccer mom's and their mini vans, because we beat their stupid ass's and they.. Suck.