Gogol Bordello @ The Fillmore at Irving Plaza, NYC
Live Reviews | Mar 11th, 2010
Date: March 9th 2010
Opening Band: Jesse Malin
Band Link: gogolbordello.com
To see all the photos from the show, please visit Prefixmag.com's gallery here.
Gogol Bordello played a special show in New York City last night at Irving Plaza, err I mean The Fillmore AT Irving Plaza. They haven't played Irving Plaza for a few years it seems; lately they have been playing Webster Hall. The reason why the show was special because it was a Haiti benefit show, with proceeds going to support the aid down there. If you've ever been to a Gogol Bordello show, you know they never call in a performance. They give it their all every time and it's just a blast to witness! That certainly was the case with this benefit show!

Upon arriving at the venue, I had to wait for my pass/ticket to get there but thankfully didn't have to wait too long. I wasn't able to secure a spot up by the balcony, which I usually like for Gogol shows. It just provides a better vantage point for taking pictures after the allotted 3 songs. But I got my back-up spot by the band equipment area. The spot worked out fine in the beginning but got overly crowded during Gogol's set. The opening act was newly signed Side One Dummy artist Jesse Malin. I've heard his name thrown around lately but never heard his music or seen him live before. He kind of reminded me of Willie Nile, just minus the Bob Dylan singing and has a more punkier sound. Ok, so maybe that was a bad analogy? You know what I mean though, a troubadour rocker type. He played 9 or 10 songs, including a Stooges cover of "1970." I liked his sound, no complaints from me. Curious to see how he sounds on CD.
While the crowd waited for Gogol to come on stage, they were entertained by trippy videos, along with hip-hop and world music from Haiti I believe? At least that's what I thought Eugene Hutz said. Gogol Bordello came on at 9:30pm and rock Irving Plaza like they always do! Eugene came out and started to play "Illumination," slowly more members came out to play along. The next song was a new song I believe, because I never heard it before. It was nice to hear some new songs, especially the ones they played. Their new album comes out in April 27th on American Recordings. No more Side One Dummy I believe. Out of the show, they probably played around 4 or 5 songs that I haven't heard yet. At some point they played "Pala Tute" which is the song they performed with Madonna at Live Earth in 2007. That song I believe, is on their new album.
After that, "Not A Crime" was played and the crowd went insane. Same goes with "Wonderlust King." I noticed throughout the concert that Pedro was more involved than the last time I saw the band, and Pamela wasn't really as involved as Elizabeth was. [EDIT: Apparently this wasn't Pamela at the show. Oops] Pedro was playing the drum and bongos a lot more, and the girls were in the background for majority of the set. Eugene is such a unique and energetic frontman that it's hard not to keep your eyes off him. Sergey is an exciting fiddle player as well. Without a doubt, Gogol is still one of the best live acts in the world right now.
Other notable songs that the band played included "60 Revolutions" with Pedro drumming on the bucket, "Mishto," "Tribal Connection," and of course "Start Wearing Purple." Usually they play a slow-down version of the song but not this time. It was probably one of my favorite song played that night, including the final song of the set, "Think Locally Fuck Globally." What a way to end the initial set!
Eugene came back for an encore and started off playing an acoustic instrumental solo, and then went into "Alcohol" from Super Taranta. Just like the beginning of the set, slowly members came back on stage to perform with Eugene. After that, they played the super-charged "Punk Rock Parranda" and to end things for the night, was a mash-up of "Indestructible," and "Baro Foro" that lasted probably 10 minutes long. I was waiting for someone to get the big drum out and stand up on it in the crowd. Pedro ended up doing that for a few seconds, before falling off of it. I still managed to get the shot though! In the past, Eugene and Pamela got on the drum. After that, I believe the show was over because it seemed that way. I don't know if they came back for a second encore. I had a blast seeing Gogol again after not seeing them for 3 years. I'll definitely can't wait to hear their new album now, and will be seeing them more in the future. I suggest you do the same!
Some photos from the show: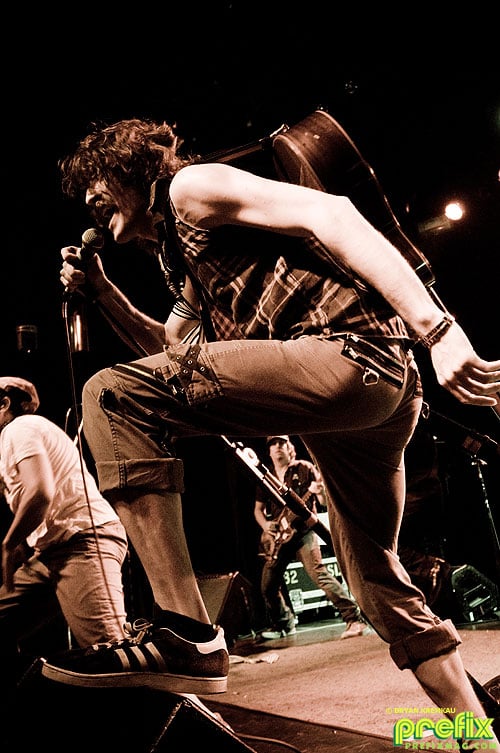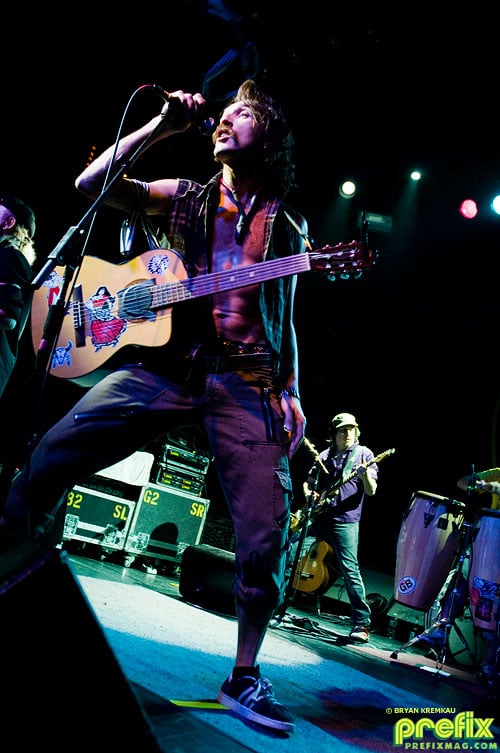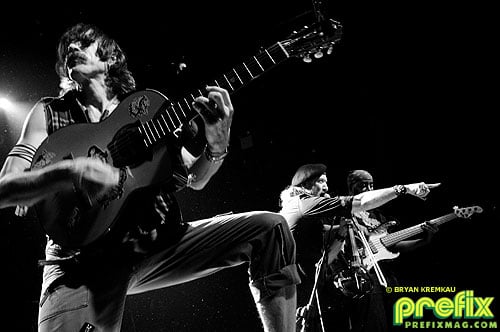 To see all the photos from the show, please visit Prefixmag.com's gallery here.