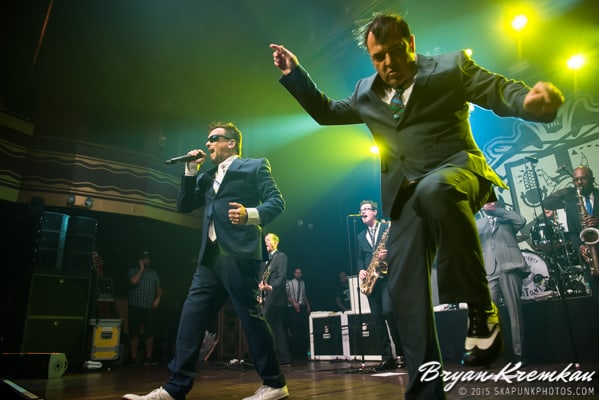 Date: July 15th 2015
Opening Bands: Street Dogs, The Interrupters
The Mighty Mighty Bosstones returned to the East Coast after not playing the area for 3 years. 3 years isn't that long but can be if you're a die hard Bosstones fan. The Boston ska band brought fellow Boston punk band Street Dogs and California's The Interrupters along for the ride as well.

The Interrupters opened up and people were still coming in when they went on. There still was a decent size crowd though and majority of people loved their set. They are on Hellcat Records and pretty much sound like a female Rancid (well The Distillers). Some people might not like that but I don't mind their music. They put on a fun set and played songs like "Take Back The Power" (my favorite of theirs), "This Is The New Sound," a cover of Op Ivy's "Sound System" and finished things up with "Family."
The last time I saw Street Dogs, was 2008's Warped Tour. I would love to see them more often but hard getting out to certain shows & tours. I love their music and they could have easily headlined as well. So it was extra special that they played with the Bosstones on this tour.
I believe they opened with "In Defense of Dorchester" and played other great songs like "Savin Hill," "Punk Rock and Roll" and "Not Without A Purpose" soon after. Fans really liked when they played "Tobe's Got A Drinking Problem" and were singing along. At one point, CJ Ramone came out and sang "R.A.M.O.N.E.S" with the band. Street Dogs finished up their killer set with songs like "You Alone," "Back to the World" and I believe one more but can't think of the song at the moment.
The Mighty Mighty Bosstones never disappoint with their shows and always on their A game. No plaid for the band that night as they just wore normal suits that night. That didn't stop others from sporting some plaid suits and clothing in the crowd. Of course plaid is the latest fad in every clothing store these days, except Bosstones fans like myself have been wearing it since the 90s.
Anywho…the band started things off with "The Old School Off The Bright" from A Jackknife to a Swan album. I love hearing "The Rascal King" more than their other popular song, and they played that second. From over the years of seeing the Bosstones, sometimes they switch up versions of "Doctor D" and that night was the original sounding version.
Everyone in the crowd was having a great time, singing along to the songs, crowd surfing a little but there were of course a few bad apples in the crowd. Bosstones tend to have a mix crowd of rudies, punks, parents (saw a few who brought their kids. Gotta start them early!) and meatheads. A few people got kicked out or were trying to start fights. At one point Dicky called one of them out, and that guy got ejected after punching people supposedly. You pay money to see a band live, and then get drunk and act stupid & punch people? Doesn't make sense to me. Life's too short, stop acting like a douche.
Other song highlights include: "Someday I Suppose," "Royal Oil," "He's Back," "Nevermind Me (Mike of Street Dogs came out to sing!)," "Everybody's Better," the Clash cover of "Rudie Can't Fail" and "Almost Anything Goes." Everytime I hear "Everybody's Better," I just love it. I don't know why I don't listen to that album more often.
Towards the end of the set, the Bosstones broke out "Devil's Night Out," "Don't Worry Desmond Dekker," and of course "The Impression That I Get." Everybody cheered and were dancing all over. I was up in the Webster Hall balcony at that point and it felt like it was going to collapse. How that balcony hasn't done that yet amazes me. Hopefully it never happens though. The Bosstones finished the set with "Impossible Dream" and that's when I had to take off. Work early in the morning and trying to get to a train always forces me to leave a little early. From what I read, the band played 5 songs in the encore including "A Little Bit Ugly," "Where'd You Go," and "Another Drinking Song."
That might have been my last show for the foreseeable future since I'm going to be a father in less than 2 months. If it was my last show for awhile, it was a great show to go out on.
Some photos from the show. More will be at SkaPunkPhotos.com soon!
The Interrupters
Street Dogs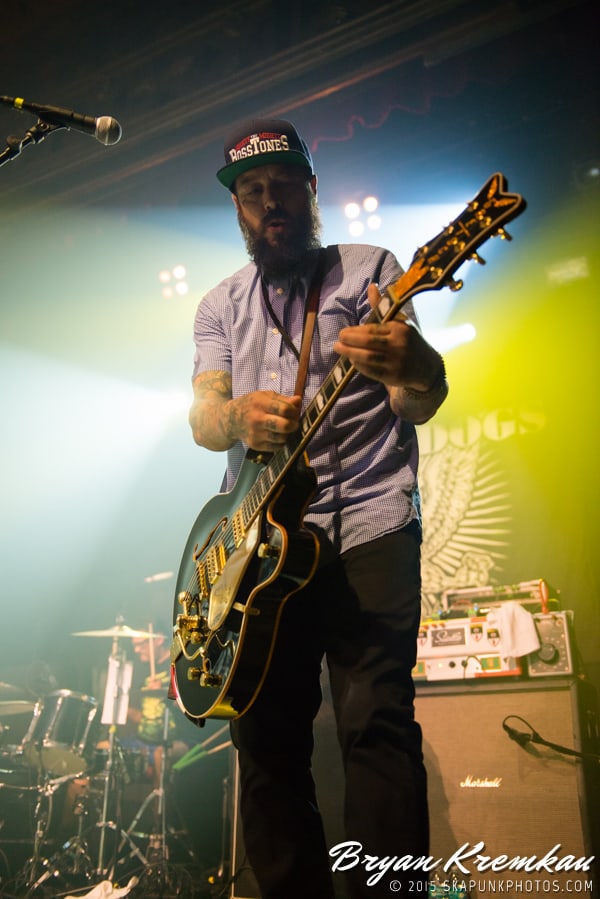 The Mighty Mighty Bosstones