Date: October 8th 2011
Opening Bands: Old Man Markley, Anti-Flag
Band Links: www.nofxofficialwebsite.com, www.anti-flag.com, www.oldmanmarkley.com
NOFX played two sold out nights at Irving Plaza in New York City last weekend. I chose to go to Saturday's show for whatever reason and all the bands performed great!

When I arrived at Irving Plaza, I waited for the doors to open, and then had to wait when the list wasn't there yet. While waiting outside, Justin Sane of Anti-Flag showed up to talk to a friend. They were briefly discussing Occupy Wall Street, which Justin and the band played that day. They were thinking about going back there to play again after their set. After that, the list showed up and yet again, my name wasn't on there. After discussing with the production manager of Irving Plaza and showing the email I was suppose to have a pass, I was cleared to go in. Every time I have a problem at Irving Plaza, they are super nice about it and help out. Unlike Roseland who don't give a fuck.
I finally got inside to see Old Man Markley, Anti-Flag and NOFX. I was outside when the opening band Break On Through were playing. I got inside when Old Man Markley were about to go, which I was glad because I really wanted to see the country punk band. I didn't realize there were so many people in the band but I really enjoyed their set. Their debut album on Fat Wreck Chords is excellent but they sound even better live. It's something about seeing a band that has a real washtub bass and washboard in the band that makes their sound extra authentic & extra awesome! They definitely have that Emmet Otter's Jug Band thing going on. They played many tracks off Guts N Teeth. "For Better For Worse" was slightly slowed down a bit. I also liked hearing "Do Me Like You Do," and "At The Bottom." Towards the end of the set they did a brilliant cover of Screeching Weasel's "The Science of Myth." It was very interesting hearing it that way. I highly recommend checking out the band if you haven't already.
After OMM, was Anti-Flag, who always get the crowd riled up and ready to go. I always like seeing Anti-Flag because they really get into the music and the message behind their songs. They kept the talking in-between songs to a minimal since they weren't headlining. They played songs like "The Press Corpse," "Turncoat," "One Trillion Dollar$," "Die for your Government," and "911 For Peace." They also played the convenient "Fuck Police Brutality" since that's been going on down at the Occupy Wall Street protests. The last song in their set, their drummer Pat went into the middle of the sold out crowd to play his drums. It would have been a great photo op but I was no where near there.
NOFX were finally up and they put on a great set! At Warped Tour they tend to talk a lot, which they certainly did that night but at least they play for long ass time to justify the funny banter between songs. Out of the band, El Hefe looked the most drunk. You can just see it in his face. Fat Mike and Hefe took a shot before hand, in which they both looked like they were about to puke on stage. Fat Mike kept calling out this one kid that kept giving him the finger the entire show. He was getting irritated that the kid kept doing that and urged the crowd not to hit him, just pinch him with their fingernails. Not sure if people did or not.
I don't know every song the band played but ones I do remember that they played were "Don't Call Me White," "Eat The Meek," "Franco UnAmerican," "Murder The Government," "We Called It America," and "Seeing Double at the Triple Rock." I was watching the show from stage right, by the band equipment which is usually my spot. The sound kind of sucked there and everyone was lighting up joints so I headed towards the back of the room. The sound was better but harder to see. Plus it was by the bar so everyone was talking as well. A no win situation for me. Balcony would have been nice but have to get that spot right in the beginning. The band sounded great I thought and they usually do a good job when they headline. When they are on Warped Tour, it always feels like a goof session. I left around an hour and fifteen minutes into the set I was getting beat. I believe they played 5 or 6 songs after that, including one encore.
NOFX is always a good time, but to have Anti-Flag and Old Man Markley play as well? That's an extra bonus and a rare show where all the bands are good!
Here are some of my favorite shots of the evening:
Old Man Markley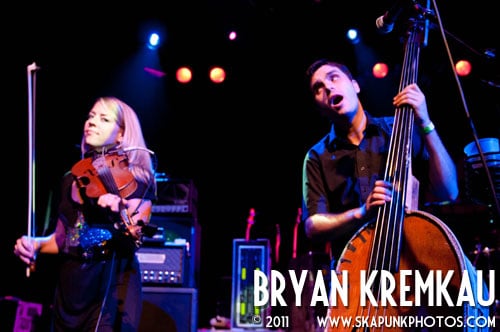 Anti-Flag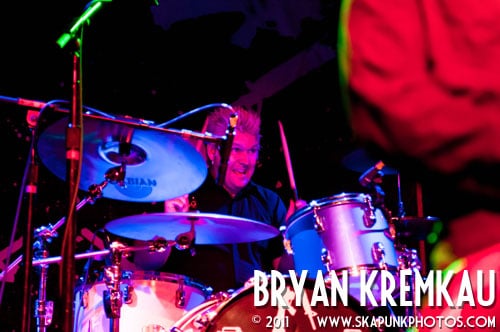 NOFX
I'll have the full galleries up at www.skapunkphotos.com sometime this week.