Suicide Machines @ Gramercy Theatre, NYC
Live Reviews | Apr 11th, 2015
Date: April 10th, 2015
Opening Bands: Break Anchor, Bastardous, Derek Grant, The Fad
The Suicide Machines are on a tour right now where they play their hit album Destruction By Definition from start to finish. I couldn't pass up that chance to see them play that album and a lot of other people had the same idea.

Long Island ska punk band The Fad started the show early; some people were there but took a bit of time for the crowd to fill in. They were fun as usual, and of course Jimmy Doyle was representing his Islanders gear and getting ribbed for it by some of the crowd. They played some old songs, and I believe played a new one or two as well. The barricade didn't stop Jimmy from bouncing over the monitors and singing with the fans. There weren't many people up front at the time but when Jimmy was there, fans swarmed to sing along like they always do. Good set though!
Up next was Derek Grant, who also plays drums with Suicide Machines and Alkaline Trio. Derek released a solo album called Breakdown back in January. I think the crowd was bit hesitant in liking Derek but eventually came around to his acoustic set. At one point, he broke an acoustic guitar string and just decided to use an electric guitar. He said he never did his solo act that way before and I ended up liking his set with the electric guitar more. I'm not sure what was with crowd for the first 3 acts but they weren't doing much of anything. Derek even called them out on it as well as the next band, Bastardous.
Bastardous from Detroit played after Derek Grant. They were pretty good; straight up punk rock. I recognized one of the members, Tony, but I'm not sure where I've seen him before. Maybe in another band or the Warped Tour or something? The crowd woke up once Jay's newest band, Break Anchor, took the stage. By that point the sold out/almost sold out crowd showed up and were very lively. Not sure what songs Break Anchor played but really enjoyed their set. Jay was on guitar and sang, so he wasn't running around to the crowd like he does for Suicide Machines. Break Anchor just released their latest album In A Van Down By A River via Paper + Plastick Records. I'll have to get that since I really liked their set.
Suicide Machines were up last obviously and they had a bit of surprise in store for the NYC crowd. Vinny Nobile was originally planning on playing just a few songs with the band but he ended up just playing the whole set! It was great to see Vinny singing and bouncing around the stage again. He played on some other dates with the Suicide Machines but not all of them.
Like I mentioned earlier, they played Destruction By Definition from start to finish and it was awesome! As soon as "New Girl" started, the crowd went ape shit and Jay was already singing near the crowd. Having Vinny there added to the set. He didn't play trombone all the time but sang along and was constantly dancing and bouncing around. It was great hearing songs like "S.O.S," "Hey," "Too Much," "Islands," and "Vans Song." Someone came out to sing "Hey" but not sure who it was or hear who it was since I was getting out of the photo pit during the song. There's so many good songs on this album, that's why it was cool that they played this from start to finish. I also loved hearing "Face Values" and "Insecurities" as well.
The last song of the set was "So Long" and after that I decided to leave since I was trying to make the PATH schedule. It would have been nice to see the encore but wanted to head home more. Based on other setlists that they played on this tour, I think they played songs like "I Don't Wanna Hear It," "Someone," "Give," and "DDT." I hope the idiot that was shouting for "DDT" after every song was around to finally hear them play it. No idea if they actually played it though.
This show was fun to see and Suicide Machines were excellent! I hope they decide to come back and play again, or even release some new music as well.
I'll have more photos over at SkaPunkPhotos.com in the coming days but check out some below.
The Fad
Derek Grant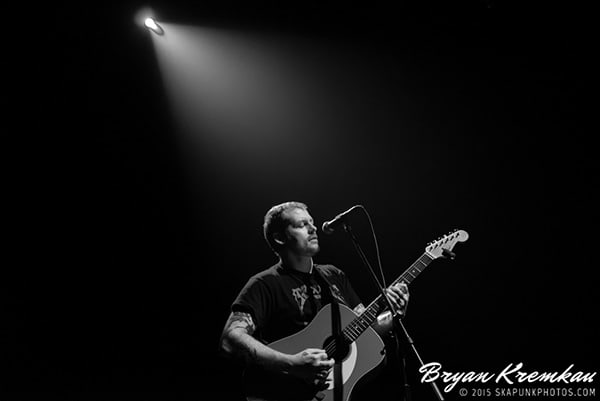 Bastardous
Break Anchor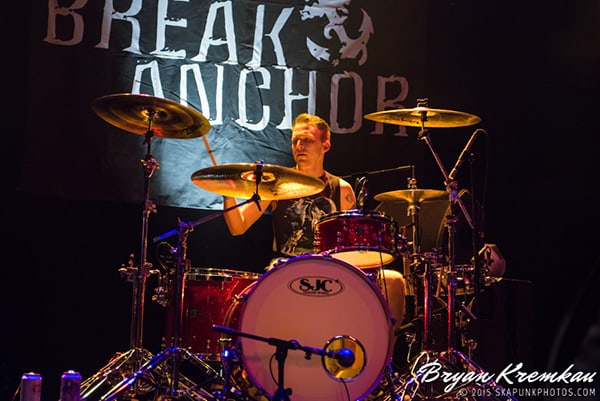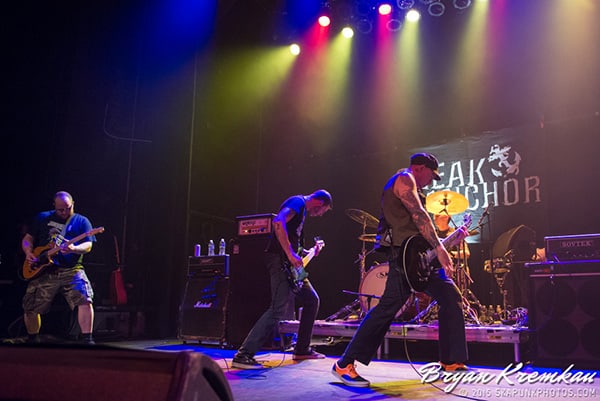 Suicide Machines