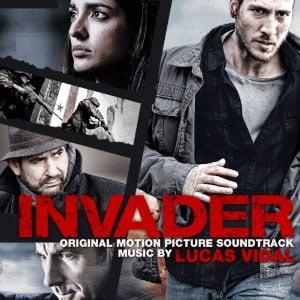 Record Label: Lakeshore Records
Genre: Film Score
Buy on Amazon.com
Invader is a Spanish military movie that centers around an Army doctor that was injured in an attack. He returns home to Spain but begins to realize he's not being told the whole story. Not sure if this is subtitled or not, but the film sounds interesting and so does the score too!

I only just heard of Spanish composer Lucas Vidal after seeing The Raven. I was impressed with his score and found out he was only 28 years old. Even more impressed! I have a feeling we'll be hearing more and more from him. The Invader score was recorded with an orchestra with lots of percussions and strings. Plus there's some electronic elements added into the mix as well. It kind of reminds me a bit of the Bourne scores a little bit. "Overture" is the opening track and it's also the best track I think. It's exciting and intense and that's just from listening to the score. I'm sure its ten time intense watching the scene. For the most part, this score is a lot of drums beating really fast, mixed in with computerized beats. Just imagine the chase scenes in the Bourne movies and that's basically this score. It's not a copycat or anything, but just a similar style.
Bottom Line: Interesting score from a young composer
Notable Tracks: Overture, Massacre, End Credits
Overall Rating: