Bryan's Year In Review 2016
Articles | Dec 23rd, 2016
I thought 2015 was a terrible year (with the exception of the birth of my son). 2016 is certainly a lot shittier. 2016 pretty much will be remembered for terrorist attacks, gun attacks, cops killing unarmed people, and the year that the music died. So many musicians and actors are now gone. Was it the year or just the fact you've reached a certain age in your life when people you listened to or watched have died? With the impending Führer Trump taking office, I'm sure 2017 will be more doom & gloom. Yay for us!? With all the gloom in the world, I still managed to compile useless lists of my favorite albums, movies, tv shows and all that junk. Enjoy!

Music
Top 20 Favorite Albums of 2016: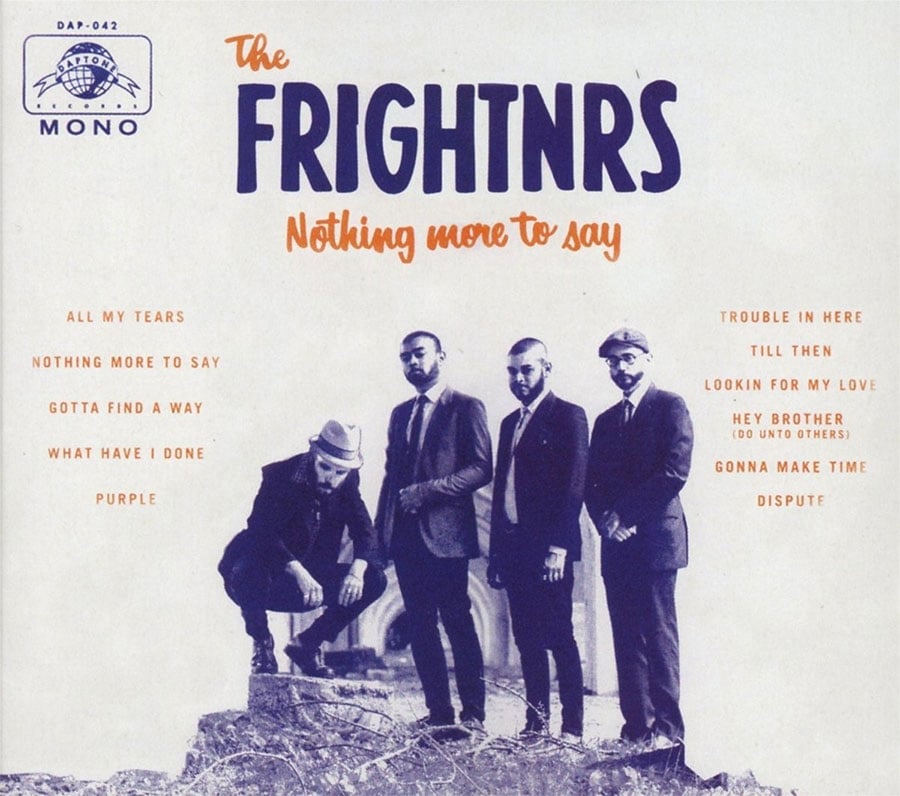 1. The Frightnrs – Nothing More to Say
2. Skinny Lister – The Devil, The Heart & The Fight
3. Trapper Schoepp – Rangers & Valentines
4. Chain Wallet – Chain Wallet
5. Jordan Klassen – Javelin
6. JAWS – Simplicity
7. SULK – No Illusions
8. The Rifles – Big Life
9. New English Beat – Bounce
10. The Descendents – Hypercaffium Spazzinate
11. NOFX – First Ditch Effort
12. The Narrowbacks – Arrogance and Ignorance
13. Nerf Herder – Rockingham
14. A Silent Film – A Silent Film
15. Rebelution – Falling Into Place
16. Pulley – No Change In the Weather
17. Willie Nile – World War Willie
18. Dirty Heads – Dirty Heads
19. The Courteeners – Mapping the Rendezvous
20. Masked Intruder – Love and Other Crimes EP
Favorite Songs of 2016:
1. The Frightnrs – Nothing More to Say
2. Skinny Lister – Geordie Lad
3. Trapper Schoepp – Lost Cowboy
4. Chain Wallet – Remnants of a Night
5. Pilfers – Zimbabwe
6. Jordan Klassen – Baby Moses
7. Stone Roses – Beautiful Thing
8. Tom Chaplin – Quicksand
9. JAWS – What We Haven't Got Yet
10. The Alternate Routes – Somewhere in America
11. SULK – No Illusions
12. Stephen Marley – Revelation Party
13. Dirty Heads – Oxygen
14. The Narrowbacks – Shannon
15. A Silent Film – Lightning Strike
16. Mayer Hawthorne – Love Like That
17. Rude Boy George – Kids in America
18. Nerf Herder – At The Con
19. The Movement – Dancehall
20. Travis – Magnificent Time
Top 10 Songs I Listened To The Most, According to Spotify:
1. Vangoffey – Race of Life
2. Stone Roses – She Bangs The Drums
3. Tom Chaplin – Quicksand
4. The Frightnrs – Make Up Your Mind
5. The Jesus and Mary Chain – April Skies
6. Trapper Schoepp – Lost Cowboy
7. Stick Figure – In This Love
8. The Beach Boys – God Only Knows
9. David Bowie – Heroes
10. Elvin Bishop – Fooled Around and Fell In Love
Album I Should Have Included On Last Year's Best-Of List:
Vangoffey – Take your Jacket Off & Get Into It
Torture Your Enemies With These Songs:
Ghostbusters (I'm Not Afraid) – Fall Out Boy Featuring Missy Elliott
Anything by Kanye West
I'm Looking Forward to Hearing New Music From:
The Levellers
The Push Stars
Carbon Leaf
Tom Waits
The Alternate Routes
Authority Zero
The Pietasters
Ballyhoo!
Favorite Concerts of the 2016:



The Levellers @ Music Hall of Williamsburg
The Levellers @ Bowery Ballroom
The Stone Roses @ Madison Square Garden
Punk Rock Bowling Day 1 @ Stone Pony Summer Stage
The Specials @ Terminal 5, NYC
Punk Rock Bowling Day 2 @ Stone Pony Summer Stage
The Push Stars @ The Chance, Poughkeepsie, NY
The Selecter @ Gramercy Theatre
Best Live Band of the Year:
The Levellers
Old Band I Just Got Into This Year:
Jesus and Mary Chain
Bands Need To Stop:
…Touring in Long Island and thinking it's okay not to tour in Manhattan.
Movies
My Top 10 Favorite Movies of 2016 (that I've seen):


1. Rogue One: A Star Wars Story
2. Deadpool
3. Captain America: Civil War
4. Doctor Strange
5. The Lobster
6. Star Trek Beyond
7. Jason Bourne
8. The BFG
9. The Nice Guys
10. Finding Dory
Movies I Wanted To See But Haven't Yet:

Fantastic Beasts and Where To Find Them
Bad Santa 2
Inferno
Sully
Captain Fantastic
Arrival
Hacksaw Ridge
The Magnificent Seven
Top 5 Favorite Film/TV Scores:

1. Michael Giacchino – Rogue One: A Star Wars Story
2. Michael Giacchino – Doctor Strange
3. John Williams – The BFG
4. Kyle Dixon & Michael Stein – Stranger Things
5. Tom Holkenberg – Deadpool
Movie I Liked But Could Have Been A lot Better:
Independence Day: Resurgence
Weirdest Movie of the Year:
Swiss Army Man
Movies I Couldn't Watch More Than 15 minutes Of:
The Bronze
The Brothers Grimsby
Best Documentaries of the Year (that I've seen):

OJ Made in America
The Worst Movies of the Year (that I've seen):

TMNT: Out of the Shadows
Batman v Superman: Dawn of Justice
Suicide Squad
The Bronze
The Brothers Grimsby (I expect more from you Sacha!)
Bad Ass Scene:
Vader at the end of Rogue One.
Annoying Characters In A Movie:
The Joker (Suicide Squad)
Super Fun Scene in A Movie:
Airport Scene in Captain America: Civil War
Cringy, I Want to Look Away Moment in a Movie:
Colin Farrell in The Lobster, at the end with a knife to his eye
Funniest Cameo In A Movie:
Stan Lee in Deadpool
Movies That Looked Bad Just Based On the Movie Trailer:
Ghostbusters!
Gods of Egypt
Warcraft
The Legend of Tarzan
Alice Through The Looking Glass
Nine Lives
Most Quotable Movies of the Year:

Deadpool
Rogue One: A Star Wars Story
Scene Stealers in 2016: 

Ant-Man (Captain America: Civil War)
Spiderman (Captain America: Civil War)
K2-SO (Rogue One)
Chirrut Imwe (Rogue One)
2016 Movie Titles That Could Be Mistaken For Porn:
1. Sausage Party
2. Weiner
3. The Nice Guys
4. Everybody Wants Some!
5. Pete's Dragon
6. The BFG
7. Neighbors 2: Sorority Rising
8. Meet The Blacks
9. Tickled
10. The Infiltrator
Most Anticipated Movies of 2017:
1. Star Wars: Episode VIII
2. Guardians of the Galaxy Vol. 2
3. Spider-Man: Homecoming
4. Thor: Ragnarok
5. John Wick: Chapter 2
6. Dunkirk
7. Baywatch
8. The Dark Tower
9. Fast 8
10. Logan
11. Kingsman: the Golden Circle
12. Jumanji
13. T2: Trainspotting
14. Kong: Skull Island
15. Wonder Woman
TV
Favorite TV Series of the Year:



1. Game of Thrones
2. Stranger Things
3. Veep
4. The Night Of
5. The Walking Dead
6. Marvel's Daredevil
7. Life in Pieces
8. Billions
9. Mr Robot
10. Marvel's Luke Cage
11. South Park
12. Ballers
13. Silicon Valley
14. House of Cards
15. Marvel's Agents of Shield
16. The Last Man on Earth
17. Homeland
18. Person of Interest
19. The Simpsons
20. Wrecked
Best Mini-series:
The People v. O.J. Simpson: American Crime Story
The Night Of
Show That Is Okay But Could Be Better:
Ash Vs Evil Dead
Favorite Political Shows of The Year:

Last Week Tonight with John Oliver
Full Frontal with Samantha Bee
Political Show That Isn't The Greatest Anymore:
The Daily Show With Trevor Noah
Stupidest Cliffhangers:
Who died on The Walking Dead
New Shows I Hope Don't Suck:
24: Legacy
Crashing
Iron Fist
The Defenders
Most Annoying TV Characters:
Negan
Shows That Are Slipping:
The Walking Dead
Better Call Saul
A Good Show That Got Canceled:
Not Safe with Nikki Glaser
Disappointing Show of the Year:
Sex, Drugs & Rock and Roll
Best TV Show Intro of the Year:

Game of Thrones (still)
Best Episode of any TV series this season:
Battle of the Bastards
Satisfying TV Death (sorry you've had enough time to watch!):
Ramsay on Game of Thrones
I Would Like To Watch But Have No Time:
Westworld
Black Mirror
Saddest Moment on TV:
Hodor Holding The Door (Game of Thrones)
Shows to Watch on Weekends:
Rick Steve's Europe
Rudy Maxa
Mythbusters (reruns sadly)
Favorite Late Night Talk Series:

Conan
Chris Gethard Show
Jimmy Kimmel Live
Talk Show Hosts Need To Stop:
Playing fucking games
Lame Carpool karaoke
We Need More:
Between Two Ferns
Random Stuff
Favorite Podcasts of the Year:
Nerdist
WTF with Marc Maron
Seeing Red: New York Red Bulls podcast
Favorite Web Video Series:
The Screen Junkies show
Bad Lip Reading
Schmoes Knows
Favorite Stand-Up Specials of the Year:

Jimmy Carr – Funny Business
Jim Jeffries – Freedumb
David Cross – Making America Great Again
Dana Carvey – Straight White Male, 60
Best Mobile Apps:

Vudu
Netflix
HBO Go

Books I Read In 2016:
NOFX: The Hepatitis Bathtub and Other Stories
Terry Gilliam – Gilliamesque
Stephen King – Rita Hayworth and Shawshank Redemption
Things that need to go away in 2017:
• Websites automatically playing videos and then they move to the bottom right (looking at you Uproxx!)
• Selfie sticks
• Paywalls on websites
• Websites telling me to turn off my ad-blocker
• Man buns
• Fake political news
• Columbus Day
• Tinted windows in cars…what are you trying to hide?
• Daylight savings time
• Wearing your winter hipster hat on your head (in the summer) and it barely covers your head too!
Terrible People of 2016:


• Führer Trump
• Neo-nazis a.k.a. "Alt-right"
• Anyone who voted for Trump
• Governor Rick Snyder
• Debbie Wasserman Schultz
• Chris Christie
• Paul Ryan
• Mitch McConnell
• Billy Bush
• Ted Cruz
• Martin Shkreli
• Bill Cosby
• The cops & security at Standing Rock
• Any of the Kardashians
• Kanye West
• Democrats for nominating the wrong fucking candidate!!
Phrases/Words That Need To Go Away in 2017:

• THIS!
• THIS. SO MUCH THIS!
• Just saying
• SAME!
• Alt-right…you're fucking Nazis, just call yourself what you really are!
• Make America Great Again
• but those [word] tho
• #SquadGoals
• I can't
• I can't even
• I can't even deal
• Calling yourself a "ninja," "rock star," or "guru"
• Netflix and Chill
• Bae
• Totes
• Saying the word hashtag in front of every word
• So this happened…
• Sorry not sorry
• Keep calm and….
• Cray cray
Things I Learned in 2016:
• Majority of Americans are stupid for electing a dangerous, bigoted, egotistical, orange asshole
• The Democratic primaries are a crock of shit
• Electoral College needs to go away
• Scumbags will still steal your artwork and try to sell it, no matter what it is
• …And those scumbags will try to bring you to court because you had "their" stolen/ripped off artwork taken down
• I still hate changing shitty baby diapers
• When the puke smell finally goes away in your car, your kid will puke in the car again
• When your kid goes to sleep at night, that's a good time to get a power nap
• Apple is shooting themselves in the foot with removing all the important stuff from their computers and phones. Welcome the the world of iDongle
• Walking back from the gym, be careful of what you wear because you might be interviewed by a reporter
• I really hate when the trash gets so filled. Yet I'm too lazy to throw it out, that I'll step inside the trash to make it smaller.
• Clive Owen likes Ska music
• Going to a Billy Joel concert, you'll be surrounded with people that never go to concerts and don't know how to act
• When you take a walk in Jersey City, you might run into New York Red Bull players
• When people tell me something looks good on a project, and then proceed to give me 20 more updates; it makes me mad
• The stupid internet can make anybody famous (ie. Chewbecca Mom, Ken Bone)
• People are still crazy over dumb Pokemon
• I shouldn't eat black bean burritos at an all-day outside punk festival
• Eating a ton of Halloween candy and then going to get bloodwork done is not a smart idea
• If you have a kid, you'll break your puking streak of 10 years
• NES is just as addicting as I remember it to be
• It really sucks having to drive in Hoboken
• People continue to be idiots and drive with their lights off at night
• I finally saw Polar Express: it's weird and creepy looking
• Drivers in Jersey City are the worst. They will get in right turn lanes and then cut you off (all the damn time)
• I feel like i've been abducted and missing time when I have to wait on line at the Target in Jersey City
• People are really fucking crazy over their guns
• People on Reddit/Imgur/Youtube are assholes and idiots
• Being a parent is exhausting but awesome!
• Cancer still really, really fucking sucks!
2017, you better be better!