Lenny Lashley (Darkbuster)
Interviews | Aug 31st, 2015 Sorry Folks, No Image Is Here.
Founded in 1996, Darkbuster stormed the Boston punk scene and formed a devoted following that grew with every release. Now, after an 8 year hiatus and a full time gig playing guitar with the Street Dogs, lead singer and founder of Darkbuster, Lenny Lashley took the time out of his busy schedule to answer a few questions about the freshly released Darkbuster album "No Revolution", ska, and what the ultimate Darkbuster show lineup would look like.

"No Revolution" was long in the making. What was the motivation/inspiration after almost ten years, to release a Darkbuster album?
Well, long story short we had some basic tracks we had started many moons ago and I didn't want people to not be able to hear what I thought were great tunes and a great record…a way to say thanks for the memories (as far as recording goes) and furthermore, I hate to leave anything half done. Plus, now it's like Eddie and the Cruisers' "Mad Season: The Lost Record"! Art imitating life! Hilarious!
Leading up to the release of "No Revolution", Darkbuster played a handful of reunion shows in Boston. Is that a sign that there may be a full-on Darkbuster tour in the near future?
Not likely.
What was your favorite part about recording new Darkbuster songs again? How about the worst part?
I'm a bit OCD so just seeing the project on its way to completion was big, but the best part for me was what everybody that worked on the record brought to it, bringing my rather simple-minded tune writing skills into a real good sounding record. The worst part…? I'd rather not think about that.
A few years ago you became a full-fledged member of the Street Dogs. How did that come about?
Well, I heard through the grapevine that Tobe (Bean) was gonna pursue other stuff and I called John (I had done many support dates with the band), he just said, matter of factly…you want the job? You got it and for that I cannot express my gratitude enough.
There's been a lot of talk recently about the state of the Boston punk scene or lack thereof…as the cycle goes with every city. From an insider's perspective, what's the current state of the Boston punk scene truly like?
Jeez, I dunno. I'm 50…lol. It's tough to know what "kids" are thinking. I see what they are doin'…..how they are acting…every day in fact (I work in a small 100 cap room that features live original music) but strictly from my perspective? Seems kinda stale…needs a dose of "hey look at me, I like rockabilly…look at me I like ska". Less "look at me I'm a boring street punk/hardcore band"…lol. I dunno. A little diversity musically would be a big plus in my mind. That how it was "in the day".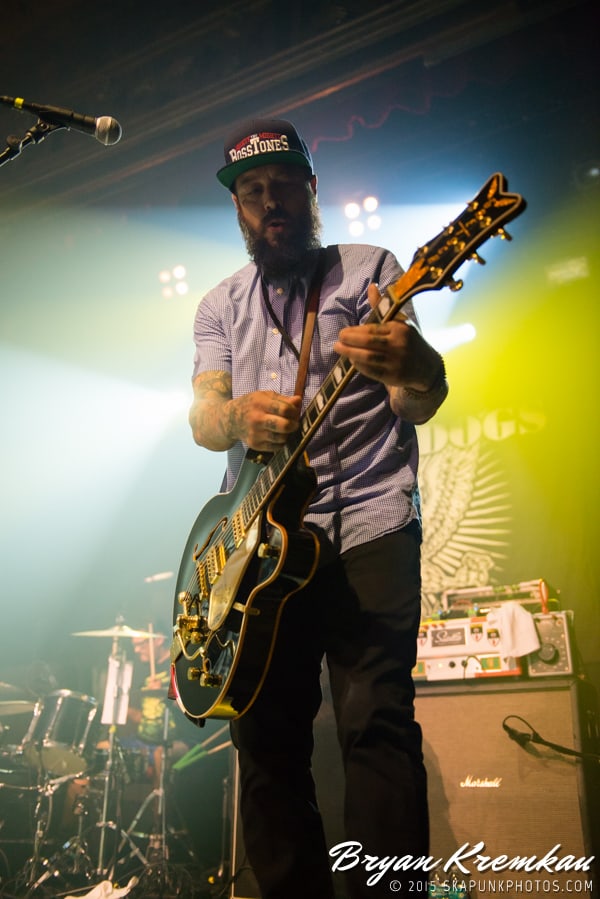 You guys have shared the stage with a lot of bands of various styles and genres over the years. Is there a "favorite" band/bands that you wish you could share the stage with every night? Other than the Unseen, who Darkbuster obviously "hates", is there a band that you would never want to share the stage with again?
Jeez…there's just so many, too many to list. I'd say the same band of brothers that we've been lucky enough to play with…Dropkicks, Bosstones, Street Dogs, wait…that's about as good as it gets in my book and, on the record, I don't hate the Unseen. It was a joke just written from a pretty "only my view" at that moment and I never wanted it to turn into hate mongering. I'm friends with those guys and wish 'em the best now and I guess I'm growing up finally. I got no problem playing with any band "sharing" the stage with us. If I do I usually just let somebody know. lol
Speaking of sharing the stage, if Darkbuster had the chance to open for any two bands/musicians past or present, what would the ultimate Darkbuster show look like?
Two bands, past or present…hmnnn…the Clash and…the Clash. I don't know about the ultimate show. I now live day to day and minute to minute just trying to play the best show I can.
While Darkbuster is mostly known for their raucous punk and oi-influenced sound, there always seems to be a ska presence on every album, including the title track from "No Revolution". Where does that influence come from?
We always historically wrote songs in whatever genre we wanted to. Ska is a big influence as is hardcore and even 70's rock. It comes from listening to and loving all styles of music.
Even though nowadays, punk and ska go hand-in-hand, there was a time when the fanbases of those two genres clashed. Has the band received much flak from fans and or peers over the years in regards to playing ska songs and having a horn section?
I think (and hope) people love the horns and organ additions. I know I certainly do.
What's the next project or projects that you have in store for us? Hopefully it's another Darkbuster album!
In regard to Darkbuster, who knows really? I'm just taking it one minute at a time right now…I hope to be doing an acoustic record, a follow up to the Gang Of One "Illuminator" record and the Street Dogs are planning on a full length too this year plus dates so…staying busy doing what I love best!
A very big thank you to Christian from Pirates Press Records and especially to Lenny Lashley for taking the time to answer these questions.
You can stream "No Revolution" HERE.
If you like what you hear, head on over to Pirates Press Records and pick up the album on vinyl or CD or get yourself a digital download.
Check out our review of "No Revolution" HERE.