Non-Ska Bands Playing Ska & Reggae Playlist
Playlists | May 28th, 2012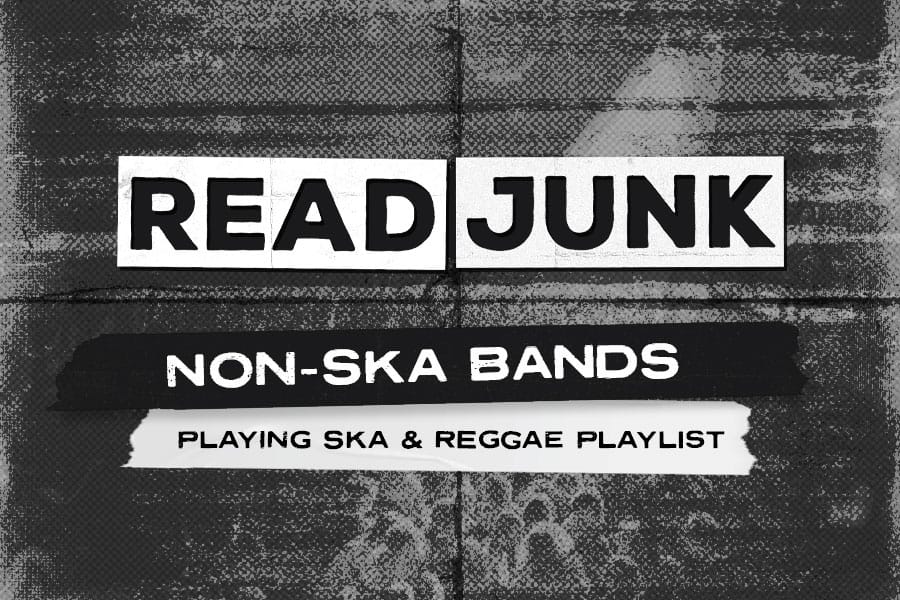 Everybody loves ska & reggae right? Wait, where are you going!? We've already made a ska playlist but I was thinking ReadJunk.com should compile a bunch of ska and reggae-style songs from musicians and bands that aren't known for playing ska or reggae music. Some of these might be a little bit of a stretch but whatever, we needed filler haha. I'm not suggesting the bands themselves are straight up ska, but the songs below contain elements of ska or reggae so don't get your panties in a bunch. Like always, if we missed a song; please comment down below with your choices!

You can listen to the playlist below on Spotify or subscribe here.
Amy Winehouse – "Monkey Man"
Everyone knows her "Rehab" song but not too many know that she has done her fair share of ska covers, including this one.
Anti-Flag – "That's Youth"
Anti-Flag may play straight up political punk, but "That's Youth" got a very ska-ish upstroke to it.
Authority Zero – "Retreat"
Authority Zero are mostly known for playing skater punk songs but they have plenty of ska tunes that they could make a whole ska album just of those songs.
The Beatles – "Ob-La-Di Ob-La-Da"
This is a little bit of a stretch but that's okay. It's more reggae than ska. Sadly I found a Phish cover of the song on Spotify and that's even more ska-ish
Billy Joel – "Running on Ice"
I know when you think of Billy Joel, you think ska right? Well this song has a bit of a ska flavor to it, mainly just in the guitar upstroke.
Blondie – "The Tide is High"
Blondie's reggae cover of John Holt was quite popular. Again, more reggae than ska.
Blood & Whiskey – "Rudy"
Mainly a Celtic punk band from Ireland, these guys did a ska song called "Rudy."
Blur – "Fade Away"
If this song isn't a homage to the Specials, I don't know what is.
Boogie Down Productions – "Edutainment"
A hip hop gem that uses Don Drummond's "Man in the Street" song for the beat.
Bouncing Souls – "Mental Bits"
Took the Bouncing Souls 20 years to come out with a ska-type tune. Unless I'm mistaken and they have done something similar earlier on.
Bruno Mars – "The Lazy Song"
Never even knew this song existed but I dig it!
The Bungalows – "Got to Go"
Aussie rock band that have 2 borderline ska tracks on their "Monkey Mountain Road" album.
Camper Van Beethoven – "Border Ska"
Camper Van Beethoven are known to play plenty of genres, including ska.
Carrie Underwood – "One Way Ticket"
Even country stars like a little bit of reggae.
The Clash – "Rudie Can't Fail"
The Clash probably shouldn't be included on this list because a lot of people know they played some reggae/ska type songs every now and then. But then again, maybe not.
Donald Lautrec – "Manon, Viens Danser Le Ska"
French pop song from the '60s that rivals Millie Smalls' "My Boy Lollipop." The Kingpins covered the song here.
The Draft – "Let It Go"
The Draft features members of Hot Water Music and "Let It Go" has that ska upstroke beat.
Dropkick Murphys – "Road of the Righteous"
I'm not saying this song is ska but the first 30 seconds has the ska upstroke thing.
El Centro – "Bouncy Song"
Just like the song says, a bouncy ska song from this punk band.
Elvis Costello – "Watching The Detectives"
Elvis Costello has played with Jimmy Cliff on songs before (Club Paradise) so makes sense for him to play some reggae songs.
The Escape Club – "Wild Wild West"
I loved this song in the 80s! Music video is very memorable. In the middle one of the guys that has a Mullet Perm breaks out his toastin' skills. wait, what? Mullet perm?
The Generators – "City of Angels"
The song that got me hooked on the Generators. The song has horns in it, some ska beats but not truly a ska song.
Goldfinger – "Superman"
Another band that borderlines on punk and ska, but I think they are mainly considered punk in my mind.
Grand National – "Boner"
Never heard of this group but this is no doubt a ska song. And no, the song is about the character from Growing Pains.
The Hooters – "Man In The Street"
The 80s band that did the popular song "And We Danced" covered Don Drummond's "Man on the Street." Never knew that!
Iggy Pop – "The Passenger"
Catchy Iggy Pop song that sounds somewhat reggae. The Jolly Boys recently did an awesome cover of this song.
Jack Johnson – "Hope"
Surfer rocker Jack Johnson plays beachy music so it makes him to have some reggae influenced songs like this one.
Jamiroquai – "Drifting Along"
If this reggae song played during Napoleon Dynamite, it would have been a way different scene.
Jer Coons – "Legs"
Bit of a mixture of Jack Johnson and Jason Mraz, but this has a summer-ish reggae beat to it.
J. Geils Band – "Give it to Me"
It isn't "Centerfold" but it's somewhat reggae/ska
Jimmie's Chicken Shack – "Lazy Boy Dash"
Don't really know much about Jimmie's Chicken Shack but this song is a mix of rock, reggae and ska.
Joe Jackson – "Pretty Boys"
Joe Jackson has more punk songs but he has some awesome ska/reggae tunes too.
Julian Lennon – "Too Late For Goodbyes"
John Lennon's kid's popular 80s song that has a ska/reggae vibe.
The Kinks – "Come Dancing"
Didn't know which song to pick for the Kinks, it was between "Apeman," and "Come Dancing."
Larrikin Love – "Happy As Annie"
Larrikin Love are no more but a few years ago they release this catchy ditty. Mixing bluegrass, folk with ska beats. Listen here.
Led Zeppelin – "D'yer Mak'er"
Get the Led out, mon.
Left Alone – "Sad Story"
Left Alone tries to sound like Rancid so it makes sense that they would be ska influenced.
Lily Allen – "LDN"
Just like Amy Winehouse, Lily Allen has a couple of ska-influenced songs and has even played alongside the Specials at a few concerts
The Living End – "Trapped"
Another psychobilly band that gave ska a try
Matthew Wilder – "Break My Stride"
A stretch but whatever…
MC Lars – "This Gigantic Robot Kills"
Rapper that sings with Suburban Legends and MC Bat Commander.
Millencolin – "Monkey Boogie"
Just a fun, bouncy song from Millencolin.
Mr. Bungle – "Carousel"
I never got into Mr. Bungle but apparently they tried a few ska songs.
Murphy's Law – "Ska Song"
New York's Murphy Law mostly play hardcore punk but experimented with some ska as well. Hence the name of the song. Duh.
Neil Sedaka – "Do The Jellyfish"
From the 1966 awful movie Sting of Death. Watch everybody "skank" in this video:
NOFX – "All Outta Angst"
Perhaps known more as a punk band, NOFX have plenty of reggae & ska influenced songs. "All Outta Angst" has always been one of my favorite songs by the band.
The Offspring – "Don't Pick It Up"
From time to time, Offspring like to play a ska song or two. I also like "What Happened To You?"
Oingo Boingo – "Who Do You Want To Be Today"
Out of the ska influenced songs that Danny Elfman & co. have done, I've always like this one "Who Do You Want To Be Today." You can hear this song in the Tom Hanks movie Bachelor Party.
The Ordinary Boys – "Boys will be Boys"
Defunct UK rock band have had a couple of ska songs including this one that has been in a Harry Potter movie. Plus they even have a song called "Rudy's in Love."
Oxymoron – "Another Day, Another Mess"
German punk band that rarely breaks out into other genres. This one definitely is a ska influence song.
Ozzy Osbourne – "Children Of The Grave (Reggae Version)"
Ozzy playing reggae. Why yes, he did.
The Paperboys – "America"
The Paperboys are a Canadian celtic/folk/alt-country band…well add ska into that mix too.
Paul Simon – "Mother and Child Reunion"
Paul Simon has a couple of reggae influenced songs. Many ska and reggae bands have returned the favor of covering this one.
Paris Hilton – "Stars Are Blind"
Paris should just try to do more sex tapes than try to perform reggae.
Peacocks – "One More Chance"
The Peacocks mostly play psychobilly but break out the ska from time to time. That's actually how I found about them on the Asian Man Records' Misfits of Ska II compilation.
Peter Doherty – "Last of the English Roses"
He's more known for his debauchery, but this track is obviously a reggae influenced song.
Phil Lynott – "Solo In Soho"
Thin Lizzy's Phil Lynott sure liked his reggae.
The Playmates – "While The Record Goes Around"
50s vocal group that has a distinct reggae/ska beat. Kind of a stretch.
The Pogues – "Murder"
The Pogues have a ska song? Why yes, yes they do! They have played with the Specials in the past and during the recording of Hell's Ditch, they released a ska song called "Murder" or "Murder Ska."
The Police – "Canary In a Coal Mine"
The Police have a background in punk rock, but also have plenty of tracks that could be considered reggae- influenced, some tracks that might even be considered ska like "Canary In a Coal Mine."
Propagandhi – "Ska Sucks"
Not really a fan of this song or the band but everyone seems to like this song.
Rancid – "Time Bomb"
Rancid are just like The Clash, they mix punk rock and reggae/ska. But when I think of Rancid, I think of punk rock before thinking ska.
Razorlight – "Back to the Start"
Another UK rock band doing a reggae song. Those Brits love their reggae.
Red Hot Chili Peppers – "On Mercury"
Red Hot Chili Peppers doing a ska-ish song? You bet!
Regina Spektor – "The Calculation"
Sort of has ska/reggae beat on the piano, but not really.
Relient K – "Five Iron Frenzy Is either Dead (Ska Version)"
A song about Five Iron Frenzy and this is a ska version too. Yup.
Ricky Martin – "Livin' in La Vida Loca"
Ah the great 90s ska fans debate. Was Livin' in La Vida Loca a ska song? I don't think so but definitely has similarities to a ska song at times. But basically, it's just a song with horns.
The Rifles – "Rock The Boat"
A b-sides reggae song from one of my favorite UK rock bands.
Rivers Cuomo – "Buddy Holly" (Ska Version)
Sure, this is just Rivers Cuomo of Weezer goofing around live but it's a ska version of Buddy Holly nonetheless.
Rush – "The Enemy Within"
Who knew Rush had a ska-ish song? I didn't.
Saw Doctors – "Will It Ever Stop Raining"
Saw Doctors have slightly grazed on the border of ska in one or two songs, most notably is this catchy song!
Shelter – "Alone On My Birthday"
I love Shelter's first album and really like this ska song that they tried. I'm sure fans didn't appreciate this song.
Shonen Knife – "Cookie Day"
Japanese female pop punk band broke out of their norm to play this ska punk song. And who couldn't love a song about cookies!
Smash Mouth – "Why Can't We Be Friends"
That "Hey Now You're An Allstar" band had a couple of ska/punk songs believe it or not. I always liked this cover from Smash Mouth.
The Smiths – "Frankly, Mr Shankly"
"Frankly, Mr Shankly" is about the closest thing you'll get to a ska or reggae song from the Smiths. There's even a rare ska/horn version of the song floating around the interwebs.
Sonseed – "Jesus is my Friend"
A hilarious viral hit of a Christian band playing a ska song called "Jesus is my Friend." The song will be stuck in your head, if you dare to watch the video:
Soulfly – "Moses"
Soulfly is normally a heavy metal band but with "Moses," they add reggae/dub to the mix.
Schleprock – "Suburbia"
Before forming the Generators, Schleprock were known for this catchy ska-influenced song that made its way onto radio and MTV's 120 Minutes.
Stiff Little Fingers – "Last Train From the Wasteland"
Just like the Clash, Stiff Little Fingers have a couple of reggae songs including "Last Train From the Wasteland" on their Hope Street album.
Sum 41 – "Second Chance for Max Headroom"
Most of this song is pop punk but there's one part where it's got a ska beat with horns.
System Of A Down – "Radio/Video"
Can't stand this band but parts of this song is a bit ska-ish.
10cc – "Dreadlock Holiday"
10cc weren't known for reggae songs but they had a song about a white man on holiday in Jamaica.
They Might Be Giants – "Boss Of Me"
The majority of the song has the ska/reggae beat but not the annoying chorus part. I still fucking hate this song though.
Thin Lizzy – "Half Caste"
Didn't know Thin Lizzy had a reggae-ish song.
Time Again – "Streetwalker"
It's something about punk bands that like to break up their norm and play a ska punk tune.
The Vines – "Factory"
Perhaps if the Vines played more songs like this, I'd listen to them.
Todd Rundgren – "Bang The Drum All Day"
I listened to this song all the time growing up and never realized it's got a bit of a ska beat. I can definitely skank to this.
Van Morrison – "Precious Time"
No idea that Van Morrison had a ska tune. It has the beat, the horns and it's just a good song.
The Ventures – "Ginza Ska"
The classic surf rock band dabbled in the ska dude.
Wailing Souls – "Love Her Madly"
It's not that uncommon that reggae bands do a ska song or two. Wailing Souls do a catchy ska cover of The Doors.
Weird Al – "Your Horoscope For Today"
Weird Al needs to start a polka ska band because he's done a few ska songs.
XTC – "Statue of Liberty"
Has an upstroke reggae beat
Zac Brown Band – "Who Knows"
This is a stretch but if anything, parts of the song have a hint of reggae in it.
Listen to some of the songs on Spotify: