The Mahones' Reveal Tracklisting for "25 Years of Irish Punk" Greatest Hits Album
Music News | By Bryan Kremkau on Mar 9th, 2016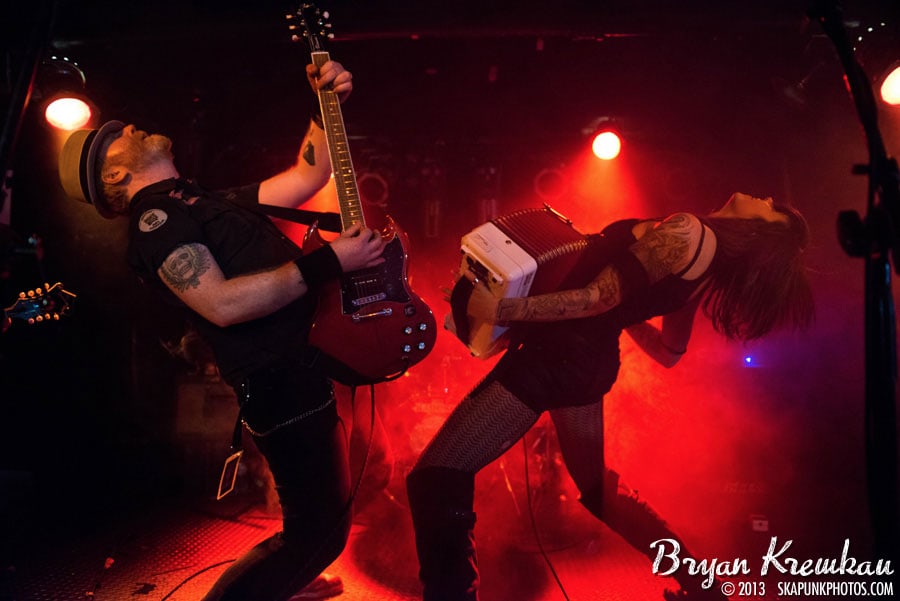 Canadian Celtic punk band The Mahones revealed details about their upcoming Greatest Hits album 25 Years of Irish Punk. The album will be released on Sailor's Grave Records this Summer. We also announced last week or so that Scruffy Wallace has joined the band. If you live in Toronto, you can see the band perform next week for St Patrick's Day.

"Sailor's Grave is extremely excited to welcome The Mahones to the family. The Mahones have been stalwarts of the Irish folk punk sound, story and movement now for 25 years. We're honored to assist them in continuing their legacy." – Andy King (Sailor's Grave Records)

"The Mahones are really excited to work with one of the best new punk labels, alongside some of our favourite bands." – The Mahones

Formed on St. Patrick's Day in 1990 in Kingston, ON by Irish born Finny McConnell, The Mahones have become an institution of Irish punk rock for the last 25 years. Their list of accolades and achievements during that time is nearly endless, from having their track "Paint The Town Red" featured in a pivotal part of Academy Award winning film "The Fighter" to being awarded Celtic Rock Album of the Year by Punk.ie (Ireland) for their 2014 recordThe Hunger & The Fight..

The Mahones are comprised of McConnell (lead vocals/guitar/mandolin), Katie Kaboom (accordion/keyboards/mandolin/vocals), Sean Winter (banjo/mandolin/harmonica/vocals), Sean "Riot" Ryan (bass guitar/vocals), Michael O'Grady (accordion/tin whistle/guitar/vocals) and Scruffy Wallace (bagpipes/tin whistle/guitar/vocals) who has re-joined the band after spending 2003-2015 with Dropkick Murphys and rounds out the group. Together, the band is revisiting and re-recording some of their most beloved songs from the last two decades and half for 25 Years of Irish Punk!
25 Years of Irish Punk Tracklist:
1. A Great Night On The Lash
2. Paint The Town Red
3. Shakespeare Road
4. Give It All You Got
5. Across The USA
6. Angels and Devils
7. Is This Bar Open 'Til Tomorrow
8. One Last Shot
9. Streets Of New York
10. A Drunken Night In Dublin
11. Ghost Of A Whiskey Devil
12. Past The Pint Of No Return
13. Down The Boozer
14. Shake Hands With The Devil
15. Queen And Tequila
16. Drunken Lazy Bastard
17. The Hunger & The Fight
18. Punk Rock Saved My Life
The Mahones St. Patrick's Tour Dates:
Mar 16 – Toronto, ON – The Phoenix Concert Theatre
Mar 17 – Toronto, ON – Canada AM (National Television)
Mar 17 – Kingston, ON – Blue Martini (St. Patrick's Day)
Mar 19 – Ottawa, QC – Zaphod Beeblebrox
Mar 20 – Montreal, QC – Piranha Bar
Summer Festivals USA / Canada:
July 10 – Littleton, Colorado USA – Colorado Irish Festival
Aug 13 – Fergus, ON Canada – Fergus Highland Games
Sept 10 – Kingston ON, Canada – Fort Henry Kitchen Party Festival
Sept 17 – Aurora, Illinois USA – Fox Valley Irish Festival
Sept 23 – Murrieta, California USA – Get Shamrocked Festival