ReadJunk Podcast: Episode 20 (United States of SKAmerica)
Podcasts | Sep 12th, 2018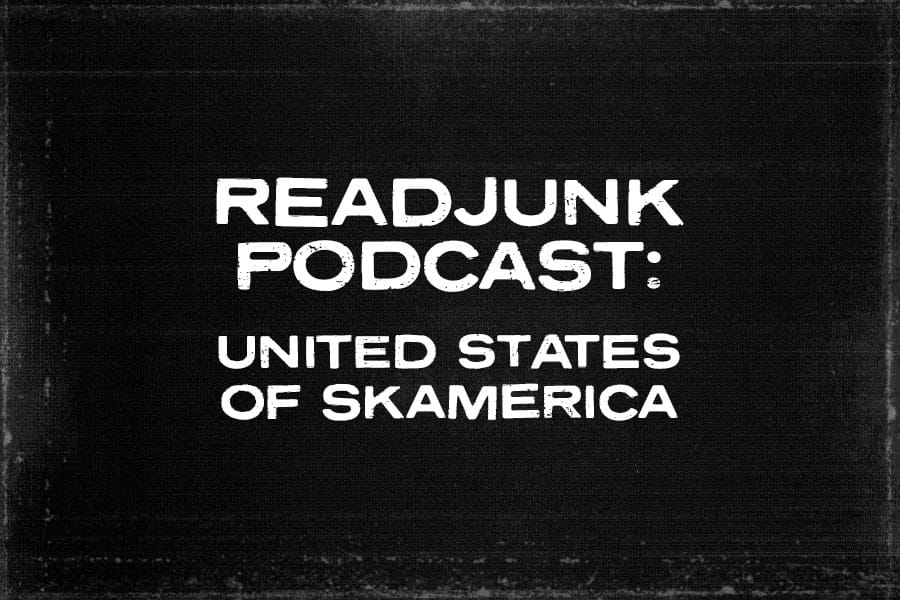 Episode 20 of the podcast is called United States of SKAmerica and I picked 1 band from each state, plus the capital of the US. So 51 tracks of ska! It's a long episode at 3 hours long so feel free to skip around or pause and come back to it. Enjoy!

It was hard finding bands for some states. Some are okay, I had to find a band for each state so it is what it is. You'll like the bands or you won't. I know I could have picked other bands for other states but this is the playlist that I came up with. Next week's episode will be pirate/shanty songs since it's Talk Like A Pirate Day on September 19th.
You can listen below or download at iTunes, Podbean, Stitcher, Google and wherever you can download/subscribe to podcasts.
*Correction: in the podcast I said I heard LTJ "My Very Own Flag" on Skarmageddon 2, I meant Skanarchy II compilation.
Playlist:
Alabama – Blame Sydney – Moose Gun
Alaska – T.I.A. – 34c
Arizona – Kongo Shock – Mokska Medicine
Arkansas – The Mistletones – Gimmie Somethin' to Dance to
California – Reel Big Fish – Thank You For Not Moshing
Colorado – Five Iron Frenzy – A Flowery Song
Connecticut – Spring Heeled Jack – Pay Some Dues
Delaware – The Bullbuckers – Gimme a Little Sign
Florida – Less Than Jake – My Very Own Flag
Georgia – The Taj Motel Trio – Stop Playing Games
Hawaii – Go Jimmy Go – Don't Stop Everything
Idaho – The Opskamatrists – Routine
Illinois – Slapstick – There's A Metal Head in the Parking Lot
Indiana – Johnny Socko – If I Didn't Have A Goiter
Iowa – Fairhaven – Floating
Kansas – O'Phil – You Say
Kentucky – The Rough Customers – Army of My Own
Louisiana – Joystick – Merry Kitchen
Maine – Sonic Libido – All The Same
Maryland – The Smooths – Farewell
Massachusetts – Mighty Mighty Bosstones – It Can't Hurt
Michigan – Mustard Plug – Away From Here
Minnesota – The Prizefighters – Hypocrite
Mississippi – StereoHype – Blackout
Missouri – Mu330 – Now
Montana – The Skoidats – Goggles & Blinders
Nebraska – The Bishops – The Other Side
Nevada – Be Like Max – You Don't Know Me
New Hampshire – The Feel Goods – Running Out Of Time
New Jersey – Inspecter 7 – Regret II
New Mexico – The Giant Steps – One Day Soon
New York – The Toasters – Dub 56
North Carolina – The Jumpstarts – Recover Lover
North Dakota – The Ska-Skank Redemption – Hit N' Run
Ohio – The Pinstripes – Alright Baby
Oklahoma – LFNC – Quiet Beginnings
Oregon – Cherry Poppin' Daddies – Don Quixote
Pennsylvania – Ruder Than You – Uncle Albert
Rhode Island – The Agents – Every Night
South Carolina – The Independents – In The Rain
South Dakota – Donnybrook Brawlers – Blow Your Mind
Tennessee – The Soul Radics – One Time
Texas – The Suspects – Another Day Another Dollar
Utah – Stretch Armstrong – Drool
Vermont – Steady Betty – Sabotage
Virginia – Murphy's Kids – Silver Lining
Washington – Easy Big Fella – Regular Guy
West Virginia – Distorted Penguins – Sexi Lexi
Wisconsin – I Voted For Kodos – Calc Lecture Girl
Wyoming – Charlie Pathetic – Sore Loser
Washington D.C.* – The Pietasters – Maggie Mae