Brown Rice Family – "Havana To Kingston"
Album Reviews | Aug 10th, 2015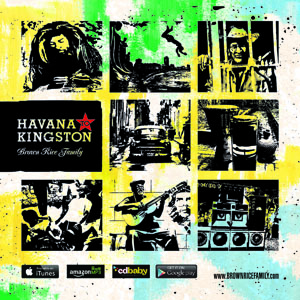 Record Label: Brown Rice Family Record Group
Genre: Ska/Reggae/Dancehall
Buy On Amazon
Having heard a sample of some of the songs on this album quite some time ago, I was anxiously awaiting the release. With it finally in my hands and firmly in my ears, I can finally spread the praises that I knew that the full length album would undoubtedly deserve.

With a group that has a background as diverse as the Brown Rice Family, members hail from Japan, NYC, Jamaica and Haiti to name a few, it wouldn't be that difficult to figure out they would draw musical inspiration from all around the globe. Their sound infuses traditional ska, reggae and dancehall with a tropical Caribbean that brings some mento and Calypso sounds to the table. For the untrained ear it would be easy to think that the Brown Rice Family hailed from the early 60s and not 2015.
"Havana To Kingston" is one of those albums that you put on to kick back, relax and enjoy the sunshine. Songs like "Repatriation (Mama Africa)" and "Gun Town" invoke the early Trojan Records days while their version of "Latin Goes Ska" as well as "Say What You Wanna Say" will bring the island to you whether at work or at play.
Each and every song has its own flavor and that is always enjoyable when a band can bend and shape their influences into such musical bliss. The Brown Rice Family is an extremely talented band and I look forward to what they have in store for the future.
Bottom Line: I don't like labeling music as "World" music, but "Havana To Kingston" truly is a global experience. This is an album that just makes you feel good…with an island vibe.
Notable Tracks: Repatriation (Mama Africa), Gun Town, Say What You Wanna Say, Latin Goes Ska
Overall Rating: