Sammy Kay and East Los Three – "Love Letters"
Album Reviews | Oct 30th, 2013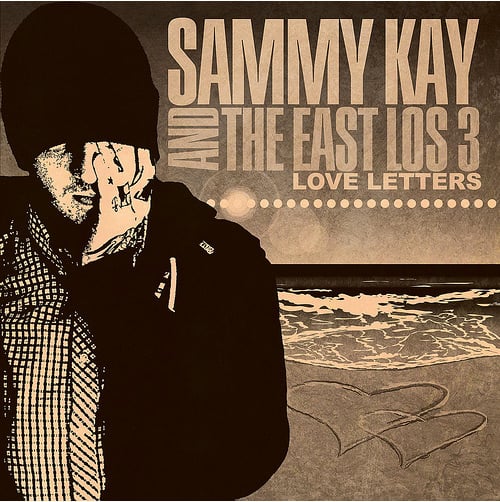 Record Label: Panic State Records
Genre: Ska/Rocksteady
Buy on Amazon.com
Sammy Kay and The East Los Three's new album Love Letters captures exactly what I love about rocksteady music. Hearing Love Letters makes me think of early Wailers music and other old ska/rocksteady from the 60s and 70s. In fact, if I heard this without knowing who it was, I would have guessed it would have been from that decade.

Sammy Kay started out merching for all the NY area ska & rocksteady bands, then was in The Forthrights. He's now been going solo (…well with a backing band) and definitely making a name for himself. The band doesn't play strictly one style of music. One song will be rocksteady, another would be ska and then others will sound like reggae and soul.
The title track "Love Letters" is a tune that makes me think of 70s reggae. "Second Avenue" has a 70s soul sound and I can just picture big-ass afros and cadillacs. I've heard "Sweet Misery" live before and it definitely sounds like something The Slackers would do. Sammy Kay's sound is very Slackers influenced for obvious reasons, plus Vic and David guest on some tracks ("Highs and Lows," "Old Man's Porch") as well. Mr T Bone, King Django, Queen P., and Nathan Ranking also guest on some tracks.
"Pictures" and "She's My Baby" both make me want to dance, especially "She's My Baby." Another Motown-sounding reggae song. Both of those songs have some flute playing in it and I just love that. I think Sammy Kay needs to cover some Tull on the next album! "Baby You Lose" is another track that reminds me of the early Wailers albums. If I had to pick a song that stands out from the rest, I think it has to be "Hearts So True." I just love the chorus part of the song, "What's a boy to do with the hearts so true" being sung over some fun keyboard playing.
If you're looking for something new and pretty damn great in the rocksteady genre, look no further than Sammy Kay and the East Los Three!
Bottom Line: Kick ass rocksteady album that gets better and better with each listen
Notable Tracks: Second Avenue, Sweet Misery, Pictures, She's My Baby, Hearts So True, I Can Change
Overall Rating: