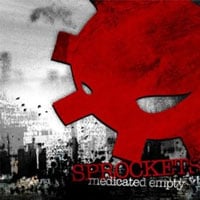 Record Label: Blynd Pheasant Entertainment
Genre: Grunge
Band Link: www.myspace.com/sprocket
Buy on Amazon.com
Pop-metal, grunge, and mall punk combine to form a well-packaged ball of cheese. Brooding lyrics and overdramatic delivery take this beyond emo territory and towards something resembling the worst of self-pitying and indulgent Smashing Pumpkins, only 15 years after it would've been edgy.

Self-serious songs, breathless vocals, and even moments of string accompaniment undo any of the competent musicianship and radio-friendly hooks they muster up.
Bottom Line: Like Creed crying into a teddy bear.
Overall Rating: