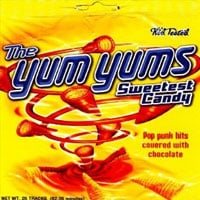 Record Label: Kid Tested Records
Genre: Pop Punk
Band Link: www.myspace.com/ilovetheyumyums
Buy on Amazon.com
The Yum Yums play powerpop/punk rock and hail from Norway. I never heard of the Yum Yums before but I definitely will remember them from now on! The Yum Yums have been around since 1993, and this album contains 25 tracks of their best stuff to date. If you ever liked pop punk, I highly recommend checking out the Yum Yums!

I'm surprised I never heard of the Yum Yums before because this is some awesome stuff! But I guess when bands are from other countries, the only way of finding out about them is through word of mouth or some other ways. Thankfully I got this album to review. As soon as I put on this greatest hits album, I immediately thought of the pop punk band Teen Idols. They also remind me of The Queers, Screeching Weasels, Travoltas, and of course the greatest pop punk band ever, The Ramones. Pretty much they would have been a great fit on Lookout Records. That's what Joe Queer said in the liner notes as well.
Each track is filled with hooks and catchy choruses. Just put the music and bop your head back and forth. The vocals are great, the guitars are great, everything about the Yum Yums is great! The quality of the CD could have been a little bit better but this is still a kick-ass compilation of the Yum Yums' best songs. This album will be immediately put on my iPod for sure! This is the way pop punk should sound!
Bottom Line: For fans of Teen Idols, The Queers, Screeching Weasel and The Ramones
Notable Tracks: Crazy Over You, Girls Like That, Out of Luck, You Can't Hurt Me
Overall Rating: