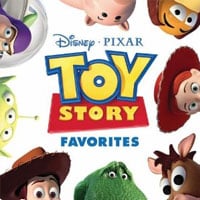 Record Label: Walt Disney Records
Genre: Soundtrack
Buy on Amazon.com
Toy Story 3 is finally out, after all these years of waiting, its was certainly the wait! Not only was it as good as the first two Toy Story movies, it makes you want to see even more of Woody, Buzz and the rest of the toys. You can't say that about every animated movie out there. Whether or not that actually happens though, remains to be seen.

To promote some of the music from the Toy Story movies, Walt Disney Records released a 6 song album featuring the favorites from the movies. You get the Randy Newman songs like "I Will Go Sailing No More," "Strange Things" and the new song "We Belong Together." I'm not sure why they left off Randy Newman's original version of "You Got A Friend In Me." That should have started off the album I think, instead of "I Will Go…" Also included on the album is that depressing song from Sarah McLachlan (which I fast-forward that scene haha), and the country western song "Woody's Roundup." Rounding out the album is the song "You Got a Friend in Me," covered by the Gipsy Kings. It's a great cover, mixing that typical Gipsy Kings sound with Randy Newman's lyrics. I'd recommend buying the original soundtracks & scores instead of this EP album.
Bottom Line: Not sure this is worth buying or not, but depends on how much you love these songs.
Notable Tracks: Strange Things, Woody's Roundup, You Got A Friend in Me
Overall Rating: