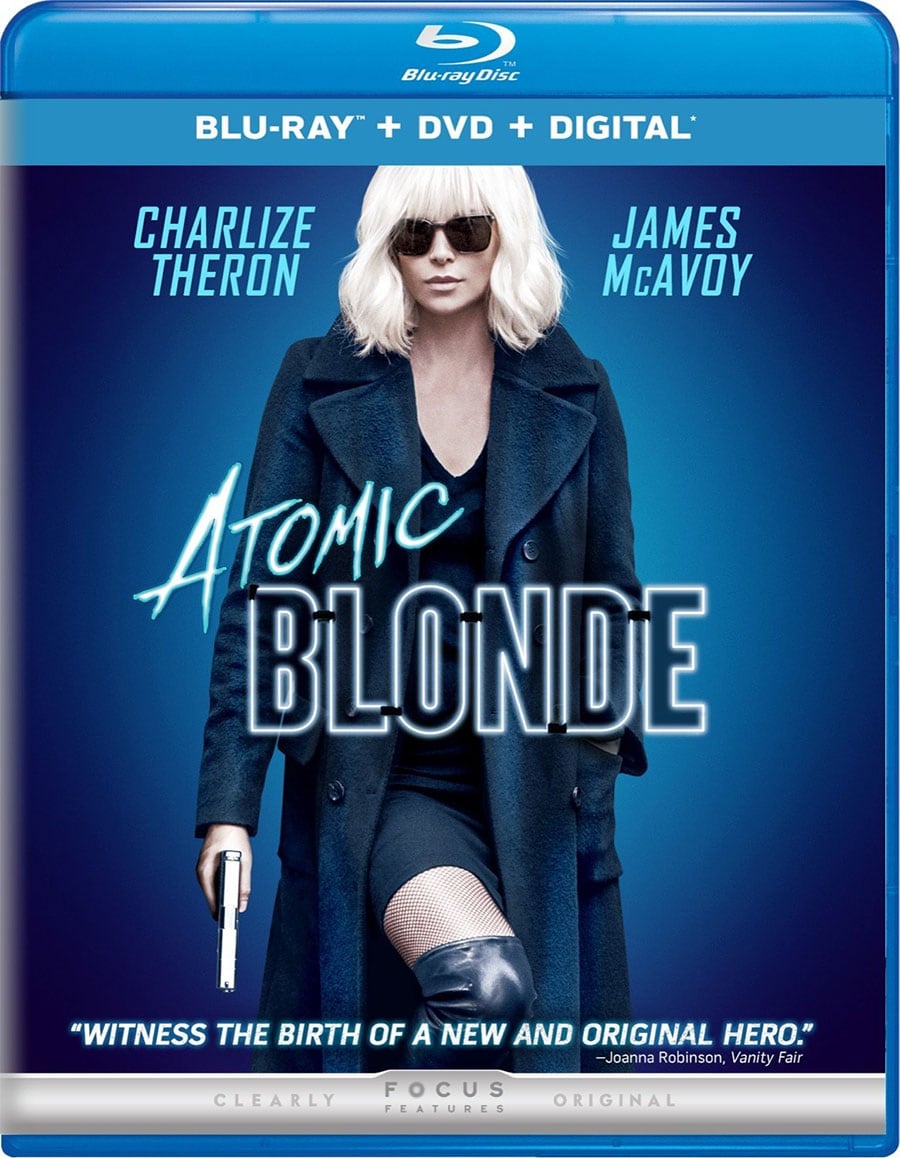 Image used with permission for review purposes.
Starring: Charlize Theron, James McAvoy, John Goodman, Sofia Boutella, Attila Árpa, Jóhannes Haukur Jóhannesson
Written By: Kurt Johnstad, Antony Johnston, Sam Hart
Directed By: David Leitch
Studio: Universal Studios
Buy On Amazon.com
The trailer for Atomic Blonde looked interesting enough that I wanted to see it when it came out on video. While the plot is a little confusing at times, the movie is still decent and entertaining.

The movie takes place in Berlin around 1989 during the collapse of the Berlin wall. A spy is killed, who contained a list of all the active intelligence agents in Berlin. MI6 spy Lorraine Broughton (Charlize Theron) is tasked with tracking down the dossier. While she is trying to stay alive and track this list down, she encounters another MI6 agent, David Percival (James McAvoy), who's assigned to assist her. She also meets an undercover French agent (Sofia Boutella), who she falls for. She has to figure out who to trust and do it quickly before more agents are killed.
I didn't have any expectations for the movie. The trailer seemed fun so I had an open mind. Story-wise, it was a little confusing at first but everything played out okay in the end. The cast is decent, particularly Charlize who plays the sexy spy and is quite the badass. James McAvoy was entertaining in this and he clearly was having a fun time filming this one. Other than John Goodman, the rest of the cast is fairly forgettable.
The fight scenes and action were top notch, which they should have been since it was directed by David Leitch who has extensive work as a stunt coordinator and worked on John Wick as well. You can definitely tell, just based on the fighting and the direction it was by Leitch. Really looking forward to see what he does with Deadpool 2. I loved the fight scene between Charlize and a few people on the staircase. Just really brutal fight scene and realistic as well!
The soundtrack is pretty awesome too, except for the lesser, crappier cover versions they chose to use. I just wish they got the original tracks or used another song to use. Can't stand these dreary, mopey 80s covers newer bands are doing these days. Movie trailers have been using them and it's such a turn-off for that movie. At least with this trailer, it made me want to see it because it featured New Order's "Blue Monday."
Atomic Blonde doesn't really offer up anything new but It's a good action flick that has Charlize being sexy and kicking ass. The story could have been a little bit better and focus more on Charlize's character instead of having her be so mysterious. By the time we finally get to know her, the movie is over. The soundtrack is pretty good despite the crappy covers and I enjoyed the movie. Worth a look on a rainy afternoon just for some of the fight scenes.
Features:
Deleted/Extended Scenes
Welcome to Berlin
Blondes Have More Gun
Spymaster
Anatomy of a Fight Scene
Story in Motion with Optional Commentary by Director David Leitch
Feature Commentary with Director David Leitch and Editor Elisabet Ronaldsdottir
Video:
Codec: MPEG-4 AVC
Resolution: 1080p
Aspect ratio: 2.39:1
Original aspect ratio: 2.39:1
Audio:
English: DTS:X
English: DTS-HD Master Audio 7.1 (48kHz, 24-bit)
Spanish: DTS 5.1
French (Canada): DTS 5.1
Subtitles:
English SDH, French, Spanish
Bottom Line: A decent spy thriller that takes place in 1989.
Running Time: 115 mins
Rating: R
Extras Rating:
Overall Rating: