Dumb And Dumber To (Blu-ray + DVD + UltraViolet)
Blu-Ray Reviews | Feb 17th, 2015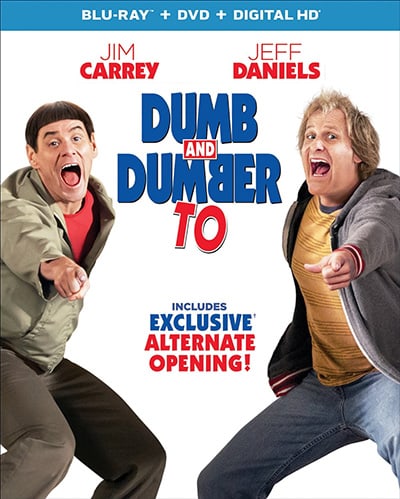 Starring: Jim Carrey, Jeff Daniels, Rob Riggle, Rachel Melvin, Kathleen Turner, Laurie Holden, Steve Tom
Written By: Peter Farrelly, Bobby Farrelly, Sean Anders, John Morris, Bennett Yellin, Mike Cerrone
Directed By: Peter Farrelly, Bobby Farrelly
Studio: Universal
Buy On Amazon.com
I've been waiting for this sequel for a long time! While I enjoyed it and laughed a lot, I thought it could have been better but at least this wasn't as bad as Anchorman 2.

Dumb and Dumber To takes place 20 years after the first movie and is essentially another road trip comedy. The movie starts with Harry (Jeff Daniels) visiting Lloyd (Jim Carrey) in a mental hospital, where he's been for 20 years after getting his heartbroken from Mary Swanson. Lloyd leaves the hospital with Harry after Lloyd was just playing a very long joke on Harry. Harry tells him that he needs to find a new kidney and they also discover that Harry has a daughter, Penny (Rachel Melvin). They decide to track her down because she might be able to give her kidney to him. That's pretty much the story with some other subplot mixed in there too.
It was good to see the characters of Harry and Lloyd again being extremely dumb. I didn't have a lot of expectations for this movie since the big letdown of Anchorman 2. Not like that movie had anything to do with this one but when long-awaited sequels finally show up, they tend to not be the greatest. The trailer for Dumb and Dumber To didn't look that funny either, but it also gave away a lot of the jokes as well. They should have kept out the bit with Harry in the hospital, the catheter, the old lady gag and some other things. It took the surprise out of the movie and didn't pack the punch it should have. There was a lot of lines and jokes not in the trailer though so at least it wasn't totally ruined. Some of the gags and jokes fell flat but for the most part, I laughed a lot. This is nowhere near the quality of the first movie though. It's not that quotable either. Just like the first movie, there's a few dream sequences in there that gave me the biggest laughs of the movie.
The special features were pretty good for this Blu-Ray. There's a gag reel, some deleted/extended scenes, and about 45 minutes worth of featurettes. The deleted scenes weren't that special, the gag reel was funny as usual, but the featurettes were great. Lots of behind the scenes footage, interviews and all that stuff. I'm happy the extras weren't glanced over and there's a good hour or so of content on this disc.
Dumb and Dumber To isn't as good as the first movie but it was still fun seeing these guys again. The movie has it's moments and if you at least chuckled at the first one, you'll like this for the most part. It definitely could have been better though.
Features
Alternate Opening
Deleted & Extended Scenes
Gag Reel
What's So Smart About "Dumb and Dumber To"
"That's Awesome!" – The Story of "Dumb and Dumber To"
Video
Widescreen 1.85:1 Color (Anamorphic)
Audio
Castilian DTS Surround
French DTS Surround
German DTS Surround
Spanish DTS Surround
English DTS-HD MA 5.1
Bottom Line: Not as good as the first movie but not terribly awful either
Running Time: 109 mins
Rating: PG-13
Extras Rating:
Overall Rating: