Jack Ryan: Shadow Recruit (Blu-ray + DVD + Digital Copy + UltraViolet)
Blu-Ray Reviews | Jun 10th, 2014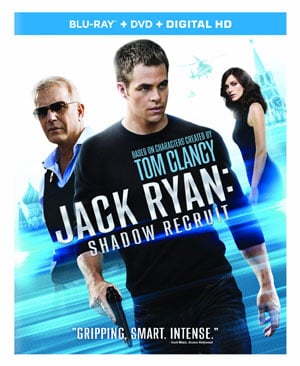 Starring: Chris Pine, Kevin Costner, Kenneth Branagh, Keira Knightley
Written By: Adam Cozad, David Koepp
Directed By: Kenneth Branagh
Studio: Paramount
Buy On Amazon.com
I think the latest attempt at the Jack Ryan franchise is a lot better than The Sum of All Fears was, and maybe I'm in the minority but actually think this is a good movie.

Jack Ryan: Shadow Recruit starts with Jack (Chris Pine) attending college over in London during the 9/11 attacks. After that, he joins the military and becomes a Lieutenant. While on a mission in Afghanistan, his helicopter is shot down and leaves him badly injured. While in rehab, he meets a medical student helping him named Cathy (Keira Knightley), and Thomas Harper from the CIA (Kevin Costner). Harper recruits Jack into working for Wall Street to see if there's anything fishy transactions going on (well duh). Jack finds that a Russian tycoon (Kenneth Branagh) might have something up his sleeve. When he arrives to Moscow, he has just a few things to worry about like someone trying to kill him, his girlfriend Cathy suspecting him of cheating, and that whole going to blow up New York City plot.
Jack Ryan: Shadow Recruit felt more like a Bourne movie than say, Patriot Games. I'm fine with that, I think Jack Ryan was better than the newest Bourne movie with Jeremy Renner. Both have their issues but I think I enjoyed Jack Ryan a lot better. It's hard not to like Chris Pine as Jack Ryan, who seems like he plays the same character but I'm sort of okay with that. I thought it was a great to have Costner in the movie and he added a certain element to the movie. Same goes with Kenneth Branagh and Keira Knightley. The movie had a lot of intense moments and I remember I was sweating a lot in the theaters when I originally saw this. But then again, I sweat when it's just over 70 degrees. I particularly like all the scenes over in Russia. The scenes in New York City just felt like watching The Peacemaker though. Why does everybody try blowing up NY? Well as Kevin Costner said in the movie, "No one tries to blow up Pennsylvania, Jack."
The special features included with the Blu-Ray combo include audio commentary, some deleted and extended scenes, and lots of mini-featurettes. The featurettes have interviews with the cast and crew, and show some of the behind the scenes at making the movie. It's your typical type of featurettes but nothing too extensive. The deleted scenes weren't all that memorable but the alternate ending was interesting. Instead of driving the van out and into the river, the climax just ends there.
There are some movie cliches in this and some unrealistic action in one or two spots. For the most part, Jack Ryan is an entertaining film that has a great cast, decent story and is just fun to watch.
Features
Disc 1: Blu-ray Feature Film + Special Features
Deleted & Extended Scenes (with Optional Commentary by Kenneth Branagh and Lorenzo di Bonaventura)
Jack Ryan: The Smartest Guy in the Room
Sir Kenneth Branagh: The Tsar of Shadow Recruit
Jack Ryan: A Thinking Man of Action
Old Enemies Return
Commentary by Kenneth Branagh and Lorenzo di Bonaventura
Disc 2: DVD Feature Film
Audio/Video
Video
Widescreen 1.78:1 Color (Anamorphic)
Audio
English Dolby Digital 5.1 [CC]
French Dolby Digital 5.1
Spanish Dolby Digital 5.1
English DTS-HD MA 7.1
Bottom Line: A good reboot that I hope gets a sequel
Running Time: 105 mins
Rating: PG-13
Extras Rating:
Overall Rating: