Manchester By The Sea (Blu-ray + DVD + UltraViolet)
Blu-Ray Reviews | Feb 24th, 2017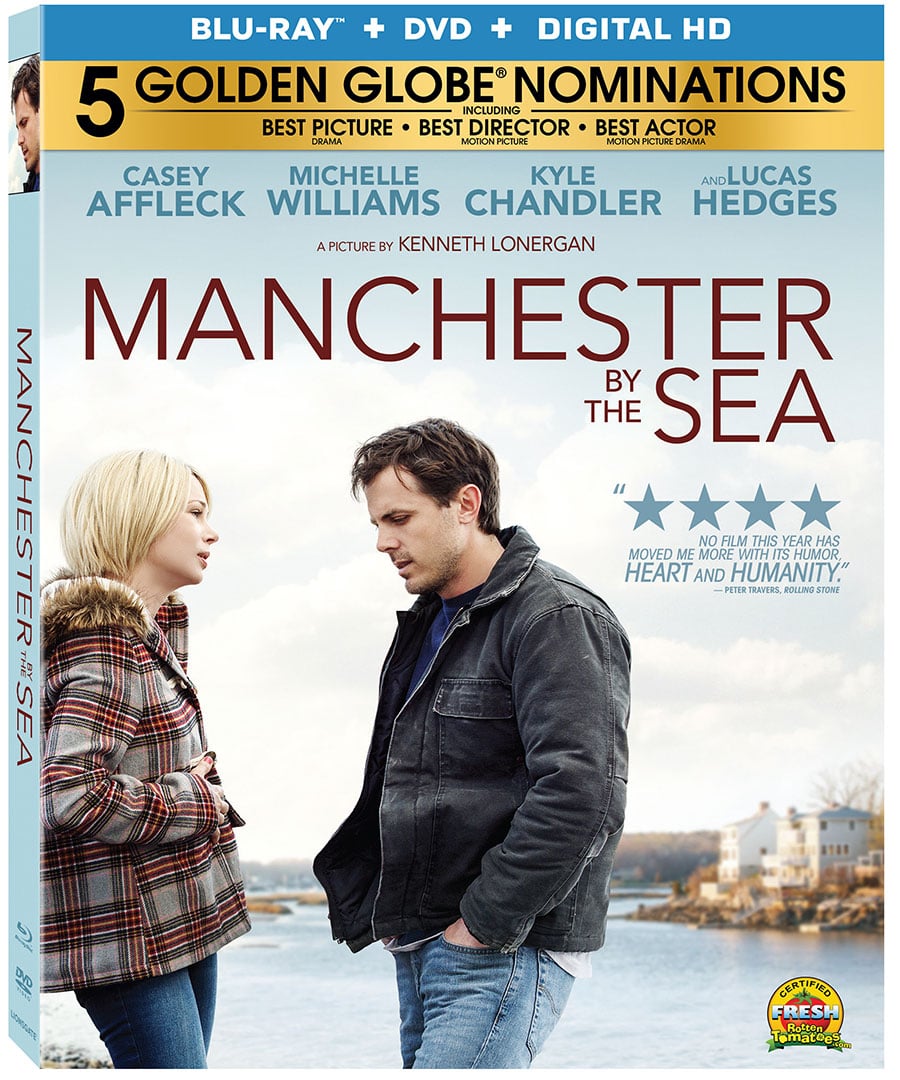 Image used with permission for review purposes.
Starring: Casey Affleck, Michelle Williams, Kyle Chandler, Lucas Hedges
Written By: Kenneth Lonergan
Directed By: Kenneth Lonergan
Studio: Amazon Studios
Buy On Amazon.com
Manchester By The Sea is an Oscar nominated movie that happens to be quite depressing. If you want to be miserable for 2 hours, then this is your movie!

The story centers around quiet and grumpy handyman Lee Chandler (Casey Affleck). Lee unexpectedly becomes guardian to his 16-year old nephew Patrick (Lucas Hedges) after his older brother Joe (Kyle Chandler) dies of a heart attack. Sound fun yet? While he has to face the fact that he has to take care of his nephew now, he also has to face his demons from the past and why his wife (Michelle Williams) left him.
I had no expectations going into this movie other than it was getting a lot of recognition from critics and the awards it was being nominated for. Then I kept hearing it was a bit of a downer before I started to watch it. They were right. I honestly couldn't wait for it to be over. It's not a bad movie, it's just one I don't want to watch again. The acting is great with Casey Affleck leading the depressing train. He's always been mopey with his acting so this was the perfect role for him. Lucas Hedges and Michelle Williams were good as well, but man those Boston accents are brutal. What's also brutal is the reason why Casey's character is so quiet and grumpy. It's kind of hard to stomach what happened.
I didn't really care for the flashback method to tell us what happened in the past. I guess it had to be done but kind of interrupted the flow of the movie. Not sure what other way to tell us what happened though. If there's one thing I liked about Manchester By The Sea, was the relationship between Lee and his nephew Patrick. It felt genuine, and realistic on how an Uncle might be looking after a nephew. At least there were a few moments in the movie that made you chuckle to lighten the mood like Patrick trying to hook up with a girl while Lee was down stairs. Besides powerful performances, I can't really think of too much else I liked about this.
The Blu-Ray has a few extras to watch. There's some deleted scenes, a conversation with the writer/director Kenneth Lonergan (audio commentary), and a featurette on the making of. The featurette about was 15 minutes long and basically just actors and the director talking about the process. Michelle Williams mentioned how that one flashback scene kept getting pushed back and back. No one wanted to do it but it had to be done. She was even getting choked up just talking about it. The deleted scenes were just a few one of them but just added to the depressive nature of the movie.
If you want to spend 2 hours being depressed and feeling better about your own life, than Manchester by the Sea is your movie. While the acting in it is top notch, that's about all that it has going for it. This isn't the type of movie I'd want to watch again.
Features:
Deleted Scenes
A conversation with writer/director Kenneth Lonergan
Emotional Lives: making Manchester By The Sea
Video:
Codec: MPEG-4 AVC (29.97 Mbps)
Resolution: 1080p
Aspect ratio: 1.85:1
Original aspect ratio: 1.85:1
Audio:
English: DTS-HD Master Audio 5.1 (48kHz, 24-bit)
Subtitles:
English SDH, Spanish
Bottom Line: A good but beyond depressing movie
Running Time: 137 mins
Rating: R
Extras Rating:
Overall Rating: