Oz The Great And Powerful (Blu-ray + DVD + Digital Copy)
Blu-Ray Reviews | Jun 18th, 2013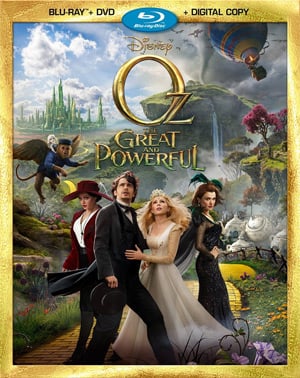 Starring: James Franco, Mila Kunis, Rachel Weisz, Michelle Williams, Zach Braff, Abigail Spencer, Joey King, Bill Cobbs, Tony Cox, Bruce Campbell
Written By: Mitchell Kapner, David Lindsay-Abaire
Directed By: Sam Raimi
Studio: Disney / Buena Vista
Buy On Amazon.com
Oz The Great and Powerful is an interesting prequel to Wizard of Oz. While it doesn't hold a candle to the 1939 film, it's still a fun flick if you're a fan of the books and the classic movie.

Oz is about a small-town circus magician (or con man) named Oscar Diggs (James Franco). While escaping a muscle man wanting to beat him up, Oscar takes off in a hot air balloon during a tornado. He ends up in the land of Oz shortly after meets up with a pretty witch Theodora (Mila Kunis). She tells him there is a prophecy of a wizard coming to Oz and saving the day against the Wicked Witch. Oscar flirts with her and makes her fall in love with him. Can we say clinger!? Theodora and her other witch sister convince Oscar he must kill a Wicked Witch to become king of Oz.
When I originally saw this trailer, I didn't think much of it. Since I'm a fan of Wizard of Oz, I wanted to at least check it out and see if it was any good. I enjoyed the film, thought it was cute and entertaining. I would have done a few things differently like pick different actors for one. James Franco is okay at times, but most of the cast are just wooden and just seem to be delivering their lines like it's some table read. I don't blame the actors but the green screen they had to work with. Star Wars prequels are a good example of that. I actually thought Rachel Weisz was the best out of everyone.
This movie was surprisingly very cleavagey for this type of movie. I don't remember The Wicked Witch having huge cleavage in the original film, but maybe she went more conservative in her later years. Hey I'm not complaining about such things but just surprised. I'm sure many men will say, "hey she's got green skin, a big nose but yeah…I'd still do her."
What I did like about this movie is the obvious answer, the visual effects. Simply gorgeous backdrops and special effects. The matting around the actors could have been better though. For instance, whenever it was a close-up of an actor or when they were walking, it just looked too fake and you can tell they were on a green screen. I also liked some of the jokes that were added into the movie, and all the subtle references to the 1939 film. Hints to Dorothy Gale's father, the scarecrow, the tinman or tin woodman(?), and the fact that the movie opens up in black & white and in full screen. Once Oscar lands himself in Oz, the screen opens up and converts to color. I like the black & white look but watching the first 20 minutes in full screen was irritating.
The special features included on the Blu-Ray include a DVD and digital copy, a featurette of James Franco interviewing people, Danny Elfman featurette, some stuff on the making of and some bloopers as well. The James Franco one was good because he was interviewing everybody and showing behind the scenes footage. Zach Braff acted out most of his stuff with a monkey puppet pretty much. Since I love film scores, the Danny Elfman featurette was a favorite of mine. The bloopers were fun to see as well.
Despite all the nitpicks I have, I still ended up liking this film. It looks amazing on Blu-Ray and I can only imagine how it looks on a 3D TV. If you like The Wizard of Oz, you might end up liking this.
Features
Disney Second Screen: The Magic Of Oz The Great And Powerful
Bloopers
My Journey In Oz By James Franco
Mr. Elfman's Musical Concoctions
China Girl And The Suspension Of Disbelief
Before Your Very Eyes: From Kansas To Oz
Mila's Metamorphosis
Walt Disney And The Road To Oz
Digital Copy Included
Video
Widescreen 2.40:1 Color
Audio
English Dolby Digital 5.1
French Dolby Digital 5.1
Spanish Dolby Digital 5.1
English Dolby Digital Stereo
English DTS-HD MA 7.1
Bottom Line: Visually stunning and entertaining but nowhere as good as the 1939 film
Running Time: 130 mins
Rating: PG
Extras Rating:
Overall Rating: