The Breakfast Club (30th Anniversary Edition) (Blu-ray + Digital HD)
Blu-Ray Reviews | Mar 21st, 2015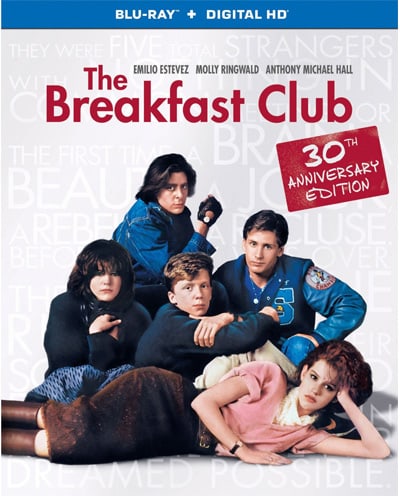 Starring: Judd Nelson, Molly Ringwald, Emilio Estevez, Anthony Michael Hall, Ally Sheedy, Paul Gleason, John Kapelos
Written By: John Hughes
Directed By: John Hughes
Studio: Universal
Buy On Amazon.com
The classic John Hughes movie The Breakfast Club is celebrating its 30th anniversary and it's been newly restored for Blu-Ray (I believe better than the 25th anniversary edition). If you've never seen the 80s movie, now's a good time to do so Pencilneck!

The Breakfast Club is about a group of students ( the princess (Molly Ringwald), the jock (Emilio Estevez), the criminal punk (Judd Nelson), the nut job (Ally Sheedy) and the nerd (Anthony Michael Hall) ) having to spend a Saturday detention together. None of them like each other in the beginning but by the end of it, they bond and even form romantic relationships out of the day spent together.
Believe it or not, this is only the second time I've seen the The Breakfast Club. The first time was just maybe 2 years ago, if that! Yeah I know, I just never saw this movie and I loved the other John Hughes movies like Ferris Bueller's Day Off, Sixteen Candles, Planes, Trains and Automobiles and Weird Science. I saw those back in the 80s but for whatever reason, I just never had a desire to see this one until recently.
The first time I saw Breakfast Club, I thought it was okay and didn't think it would be as serious as it was. This time around, I enjoyed it a lot more and could appreciate it a little bit more. Not sure why I liked it better, maybe realized it was actually funnier than I originally thought. It's one of those movies you can watch over and over and find new things to like about it. I'm sure some people relate to some of these characters or remind them of someone you know. Your teenage high school years can be a bit tense, stressful and chaotic; this movie addresses some of those things. Some of the things that happen in the movie are now cliche, but back then I suppose it wasn't and new.
The special features seemed to be replicated from previous editions. Since I didn't own any of those, i'm fine with that. This does have Ultraviolet, which I've been trying to get as many movies as possible with that since I like to watch my movies a bunch of times, on all different devices. Technical stuff with this Blu-Ray, I thought the movie looked and sounded great. From what I read, a lot of people weren't happy with the previous Blu-Ray release and some of things have been corrected.
I could definitely see that's why people like the Breakfast Club the most out of the John Hughes movies. It's a great movie but still prefer all the other ones I said above. Now that I own The Breakfast Club, I'll be watching it more and appreciating it with each viewing.
Features
Accepting the Facts: "The Breakfast Club" Trivia Track
Sincerely Yours: 12-Part Documentary
The Most Convenient Definitions: The Origins Of The Brat Pack
Feature Commentary With Judd Nelson And Anthony Michael Hall
Theatrical Trailer
Video
Widescreen 1.85:1 Color
Audio
French DTS-HD Stereo
English DTS-HD MA 5.1
Bottom Line: An 80s classic celebrates it's 30th anniversary with a great Blu-Ray release
Running Time: 97 mins
Rating: R
Extras Rating: h
Overall Rating: