The Wizard Of Oz 3D: 75th Anniversary Edition (Blu-ray 3D + Blu-ray + UltraViolet)
Blu-Ray Reviews | Oct 8th, 2013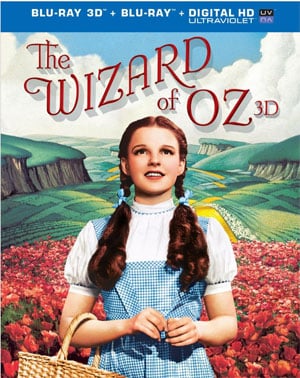 Starring: Judy Garland, Margaret Hamilton, Frank Morgan, Ray Bolger, Bert Lahr, Jack Haley, Billie Burke
Written By: Noel Langley, Florence Ryerson, Edgar Allan Woolf
Directed By: Victor Fleming, George Cukor, Mervyn LeRoy, Norman Taurog, King Vidor
Studio: Warner Home Video
Buy On Amazon.com
The classic film The Wizard of Oz has been remastered again on Blu-ray (and converted to 3D) for its 75th anniversary! If you have never owned a copy of the movie, now would be a good time to get it!

I'm not even going to talk about the plot of the movie because if you haven't seen Wizard of Oz or know the plot by now, well then there's no hope for you. Wizard of Oz is the type of movie of when it's on TV, even if it's broadcast television, you'll want to watch it. Thankfully I had the DVD (and now this), that I can just put this on when I get the urge to watch a Hollywood classic. I just love everything about the Wizard of Oz. The look of it, the acting, the story, the music, and it's just a fun flick.
I normally don't like singing in movies, but with the golden era of movies, I tend to like the singing in those movies more. If Wizard of Oz was made today, it would probably have stupid pop stars in it like Miley Cyrus or something and just be lame. I'm also sure the movie would feature overdone CGI/special effects I'm sure. I don't know what it is with certain movies, particularly this one, where just a simple matte painting or backdrop looks better than a CGI background. The twister effect still amazes me to this day! It's still used as a standard when making tornados in film.
I watched The Wizard of Oz a few months on DVD and I was glad to get this updated Blu-Ray because the quality is beyond excellent. Sure, it's still full-screen but they didn't do widescreen back then. As of right now, this is the best quality you're going to get, especially if you have a Blu-Ray or Blu-Ray 3D player. I don't have a 3D player and tend to not like those movies but curious to see how the post-conversion looked. I think for right now, I'll stick with the normal version.
The Blu-Ray extras contain an excellent new documentary about the making of the movie. I never knew how disastrous it was, especially with so many accidents and how many directors worked on this. I knew about the Wicked Witch and getting burned in Munchkinland, but really didn't know too much after that. The original Tin Man, Buddy Ebsen, almost died from the Tin Man's makeup! The film wasn't a success until it started airing on broadcast TV. It didn't last long in theaters because the theaters were owned by the studios back then, and then they were trying to promote their own movies. So the Wizard of Oz would go in and out of theaters. If you have an hour to kill and interested in this sort of thing, watch the new documentary.
Other than that, there's a few little odds and ends in the features but the main thing is the documentary. I don't think I really need to sell you The Wizard of Oz but for me, the Blu-ray is worth buying if you don't own the movie on high-definition.
Features
All-New Feature-Length Documentary – The Making Of The Wonder Wizard Of Oz
Commentary By Historian John Fricke With The Film's Cast And Crew
Sing Along Feature
Audio/Video
Video
Widescreen 1.37:1 Color
Audio
French Dolby Digital 5.1
Spanish Dolby Digital Mono
English DTS-HD MA 5.1
Bottom Line: A classic that must be seen on Blu-Ray!
Running Time: 101 mins
Rating: PG
Extras Rating:
Overall Rating: