Veep: The Complete Sixth Season (Blu-Ray + Digital HD)
Blu-Ray Reviews | Sep 18th, 2017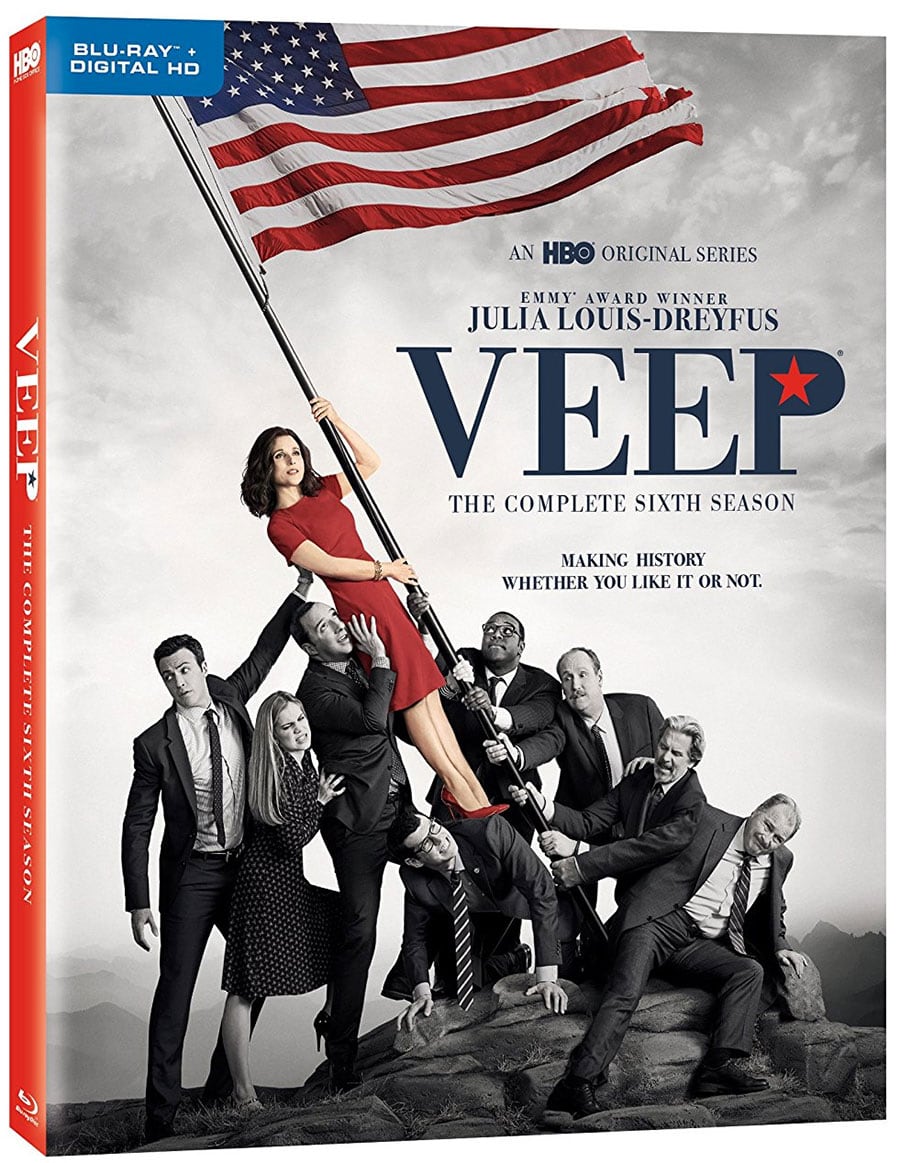 Image used with permission for review purposes.
Starring: Julia Louis-Dreyfus, Tony Hale, Timothy Simons, Anna Chlumsky, Matt Walsh, Reid Scott, Gary Cole, Kevin Dunn, Hugh Laurie, Dan Bakkedahl
Created By: Armando Iannucci
Studio: HBO
Buy On Amazon.com
The funniest and best comedy on TV is Veep and the 6th season is now available on Blu-Ray and Digital HD. While I was nervous having Selina Myers out of office wouldn't make the show as funny, I was wrong!

The 6th season of Veep starts one year later and you see how everybody is dealing with President Myers' election loss. Selina (Julia Louis-Dreyfus) is living in Brooklyn and plans on writing her memoir and enlists the help of Mike (Matt Walsh), who has been living the life as a stay-at-home dad. Dan (Reid Scott) is a co-host of CBS This Morning, Amy (Anna Chlumsky) is engaged to Buddy, who is running for Governor in Nevada. Jonah (Timothy Simons) is still in Congress but now he has Ben (Kevin Dunn) and Kent (Gary Cole) working for him. Each episode sees the former President and former White House staffers crossing paths, working together again and trying to navigate around Washington as outsiders as Selina tries to secure her legacy.
I was hoping the 6th season would be just as good as other seasons and it was. It was different since Selina Meyers wasn't in office anymore but it was still very funny. You can put these characters in any element and make it hilarious. Obviously, they are best when all together, ripping on each other and in a political setting. I think having Jonah still in Congress made the show still relevant in politics and I'm really, really hoping the show continues on with him. Having Selina trying to get back into politics all season long and having Jonah being clueless in Congress were equally hilarious. Curious to see where they take him the final season.
The supporting cast is always strong for this show as well. Furlong (Dan Bakkedahl) insulting his aide Will (Nelson Franklin) and Jonah gets me every time. The biggest laughter this season, actually crying laughter, was towards the end of the season. Jonah is in the hospital, just got a circumcision after being forced to by his sort of fiancee and in walks Uncle Jeff. Tears of laughter follow. It was the most epic of takedowns and simply hysterical. Peter MacNicol was sadly missing the entire season but that scene alone made up for it.
The Blu-Ray just offers some audio commentaries and a digital HD code. I wish there was outtakes and things like that. There is no way the actors got through this stuff without laughing some takes.
It's sad that the show is ending next season but I'm going to continue to hope for a spin-off with Jonah as President with his Uncle Jeff by his side, screaming at him. One could only hope because I think they could do a lot with a spin-off, it's just whether or not the powers that be will do it and continue these characters to another direction ala Frasier. If Veep doesn't continue with a spin-off, well then I will be watching the hell out of the seasons and continue to laugh for years to come.
Features
7 Audio Commentaries with Cast & Crew – including Julia Louis-Dreyfus, Tony Hale, Reid Scott, Matt Walsh, Timothy Simons, David Mandel
Audio
French DTS 5.1
Spanish DTS 5.1
English DTS-HD MA 5.1
Video
Widescreen 1.78:1 Color
Bottom Line: Just as funny as previous seasons
Rating: NR
Extras Rating:
Overall Rating: