Mama Makes Up Her Mind: And Other Dangers of Southern Living
Book Reviews | Nov 9th, 2009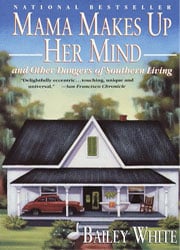 Author: Bailey White
Publisher: Da Capo Press
Genre: Memoir/Humor
Pages: 225 pages
Retail Price: $14.00
Buy On Amazon.com
This is a reissue of Bailey White's collection of anecdotes on growing up in the South. Originally published in 1993, they're modeled after her commentaries on NPR's All Things Considered.

If you're familiar with NPR's tone and format (or at least seen the spoofs on SNL), you can expect that same kind of low-key, tame delivery. The essays are breezy episodes from White's life. Characters and situations, while occasionally endearing, are unconvincingly portrayed as colorful and eccentric. The vignettes offer quick but descriptive snapshots of southern living, but often read like a joke without a punchline.
I recognize, though, that the intended audience for this book may be slightly older. Like, people in assisted living facilities. Admittedly, some of the stories are cute and Georgia in the 50s and 60s seems like a real hoot (assuming you weren't dark skinned). But, unfortunately, what is meaningful and considered wacky to the author reads anti-climactic to me.
Bottom Line: As American and dull as apple pie.
Overall Rating: