A Christmas Carol (Blu-Ray + DVD Combo)
DVD Reviews | Nov 22nd, 2010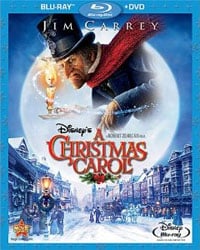 Starring: Jim Carrey, Gary Oldman, Colin Firth, Robin Wright Penn, Bob Hoskins, Cary Elwes, Daryl Sabara
Written By: Robert Zemeckis
Directed By: Robert Zemeckis
Studio: Disney / Buena Vista
Buy On Amazon.com
A Christmas Carol has been done to death but it's a version that we haven't seen before. The entire movie was filmed with motion/performance capture animation and it's a visually stunning film! With that said, I'm not sure what to think about it besides the visuals.

You should all know the story of A Christmas Carol by Charles Dickens by now. If you haven't heard it before, you are sadly sheltered I guess. It's about a miser called Ebenezer Scrooge, a moneylender in London. The story takes places in the 1800s and stars Jim Carrey as Scrooge, and a lot of other characters. Scrooge's underpaid employee Bob Cratchit (played by Gary Oldman) begs to have Christmas Eve off to spend it with his family, and Scrooge's nephew (played by Colin Firth)) tries to get him to come over for the family dinner. Of course he just wants to be grumpy and alone at his mansion. While trying to go to sleep, he is visited by his old partner, Jacob Marley, who warns him of his evil, greedy ways. Marley tells him if he doesn't change, he will end up worse than he is. Ebenezer is visited throughout the night by three spirits, The Ghost of Christmas Past, Present and Future. During that time, Scrooge realize how much of a jerk he's been and vows to change his ways.
I had the intention of seeing A Christmas Carol in theaters but like usual, just never got around to it last Xmas. I heard the film looked excellent in 3D but I have to say, it looks that way in Blu-Ray as well. Everything is really sharp and crisp! Actually, having a movie this sharp in Blu-Ray might be a negative in that is might show the film's flaws more easily. Look at the character's eyes in the movie; they just seem creepy to me. While Polar Express had both weird looking eyes and mouths, the mouths are fine this time around. The eyes seemed to bug me throughout the movie, to the point it was kind of a distraction. It just didn't seem like there was much life to the characters besides Scrooge.
The landscape and scenery looked marvelous, but not all characters looked weird to me. I thought Jim Carrey's performance was really good, and you can tell how much detail went into Scrooge and the other characters he played. Storywise, a few things seemed different or added, based on what I saw from other movies and cartoons. Honestly, I was starting to get bored with the movie towards the end but I feel that way for most of the Christmas Carols I watch. It's not my favorite Christmas story, let's just put it that way. I don't know if anything can beat Christmas Vacation, Christmas Story or Elf for me right now.
The Blu-Ray has more to watch as far as extras are concerned. There's a full motion capture experience that shows you how the movie was made, and shows you Jim Carrey at work in the motion capture suit. I always enjoy seeing things like that, because it's just neat to see. It seems like fun to do, to just put that suit on and act out stuff like you're a kid again. It also looks like hard work as well. Other extras include a Christmas interactive Calendar, whatever that is, a kid's view on the set of the movie, and some unfinished deleted scenes. I'm not really a fan of the unfinished deleted scenes on most DVDs and Blu-Rays. While it's cool to see other footage, I'd rather see deleted scenes that were finished all the way. If you don't own a Blu-Ray yet but want to buy the Blu-Ray, this also has the DVD as well. I like how studios are including that lately.
If you enjoyed this Robert Zemeckis/Jim Carrey movie and love Christmas movies, this is worth checking out. I personally loved the look of it, but didn't find it all that exciting or interesting. Maybe I will appreciate this with more viewings. Bah Humbug!
Features:
Behind The Carol: Full Motion Capture Experience
Countdown To Christmas Interactive Calendar
Capturing Dickens: A Novel Telling
On Set With Sammi: A Kid's Eye View
Deleted Scenes
Includes DVD Copy Of A Christmas Carol
Video:
Widescreen 2.40:1 Color
Screen Resolution:
1080p
Audio:
ENGLISH: DTS-HD MA 5.1
SPANISH: Dolby Digital 5.1
FRENCH: Dolby Digital 5.1
Subtitles:
English, Spanish, French
Bottom Line: A Christmas Carol is visually stunning but kind of bored me at the end.
Running Time: 96 mins
Rating: PG
Extras Rating:
Overall Rating: