Confessions Of A Shopaholic
DVD Reviews | Jun 22nd, 2009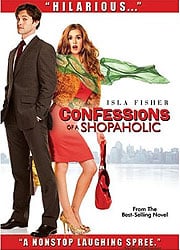 Image used with permission for review purposes.
Starring: Isla Fisher, Hugh Dancy, Krysten Ritter, John Goodman, John Lithgow, Joan Cusack, Kristin Scott-Thomas, Leslie Bibb
Written By: Tracey Jackson, Kayla Alpert, Tim Firth
Directed By: P.J. Hogan
Studio: Disney / Buena Vista
Buy On Amazon.com
Confessions of a Shopaholic is the latest girly movie to hit DVD. I had no desire to see this film but my girlfriend wanted to check it out. The comedy has its moments but it's a bit predictable and generic.

Rebecca Bloomwood (Isla Fisher) is a Shopaholic, someone who has to buy something just to have it. It might not be a necessity, but she buys it anyway. She spends thousands of dollars on clothing and gets in debt. Becky's dream is to write for a high fashion magazine in New York City, and she gets the chance to work for the publishing company for her favorite magazine. But only she gets hired to write for the sister company for a personal finance column. She ends up falling for her boss, Luke Brandon (Hugh Dancy), and eventually he starts to feel the same for her. Her column is a hit and she gets to go to Miami for an important conference. There, Luke and Becky spend more time together and bond. Throughout all of this, she's being repeatedly harassed by a bills collector. The confrontation between the two ends up on live TV and things get sour for Becky. She goes through all that trouble, just for being an idiotic Shopaholic. Tisk tisk.
Isla Fisher is a cute actress, and funny at times but it still didn't change the fact that this story was a bit generic. It seems like this storyline has been done to death, well minus the Shopaholic part. Can't we all just agree on that all women are shopaholics…*runs for cover.* joking joking! Seriously, the character working at a magazine/paper/company and gets a hit column/becomes popular/etc and then something bad happens…that crap has been done to death in movies. My girlfriend thought the movie was okay, but nothing that special. So I'm not biased for being a guy. I'll admit the movie had its moments, and I'd like to see Isla Fisher in more comedies; but this one just was an okay movie for me. Also, I'd like to see more of Krysten Ritter because she's funny and a very cute actress. I could see her headlining a movie at some point, instead of just being cast as a quirky friend.
If you enjoyed the movie, then check out the deleted scenes and bloopers from the movie. There's also a music video from Shontelle on here as well. Overall, Shopaholic was an okay chick flick, but it felt too generic to me. The romance part of it felt forced but I'd like to see more comedies featuring Isla Fisher and Krysten Ritter. The female readers of Readjunk.com might like this, I really don't know though. It could have been better.
Features:
– Bloopers
– Deleted Scenes
– "Stuck With Each Other" Music Video By Shontelle Featuring Akon
Video:
Widescreen 2.40:1 Color (Anamorphic)
Audio:
ENGLISH: Dolby Digital 5.1 [CC]
SPANISH: Dolby Digital Stereo
FRENCH: Dolby Digital Stereo
Subtitles:
English, Spanish, French
Bottom Line: The film has it's moments but it's a bit generic as far as storyline is concerned.
Running Time: 105 mins
Rating: PG
Extras Rating:
Overall Rating: